Welcome to Renderforest – an all-in-one branding platform that provides tools for making logos, creating videos,  building websites, and editing mockups.
With our online tools, you can create branding for your company without additional software installation or design skills – everything is accessible through your browser.

To assist you in learning more about our products, we've written a brief but comprehensive introduction to each of our tools. Let's dive in!
Renderforest Logo Maker
Renderforest Logo Maker helps to quickly create high-end original logos and brand guidelines online without any design knowledge, in 3 simple steps. Our logo maker is designed to provide you with the best creative solutions based on your needs and preferences.
Enter your brand name, give a brief description of what you do, and our machine learning algorithms will suggest hundreds of unique logo options. Customize the colors, text, and have your logo ready for download. 
To start the creation process, check out our step-by-step guide on how to design a logo with Renderforest.
Renderforest Video Maker
Renderforest Video Maker is designed to enhance the video creation process while simplifying it. Our editor focuses on flexibility and simplicity without compromising the quality, helping you to create professional videos in minutes. 
With a large variety of all types of videos, from intro videos to animated explainers, from infographics to music visualizations, the possibilities are endless. The only limit is your imagination.
Getting Started with Renderforest Video Maker
Let's get started with creating your first video on Renderforest. 
Sign in to the platform or sign-up if you don't have an account already. On the sign-up page, you have several options: your Google or Facebook account, or using your email address.

Fill in your name and email address in the fields, choose your password, and hit the "Sign up" button. You'll get a confirmation mail from our team with a link to verify your account. If you chose to sign up through your Facebook or Google account, simply click the "Facebook" or "Google" buttons.
After completing the sign-up process, you're ready to use Renderforest.
Video Templates
To start the editing process, browse our vast template catalog and choose your preferred one from dozens of categories, or choose a ready-made video preset. All editing processes are done online, using our tools and cloud storage. You can upload images and videos, play with color pallets and text, add music or voiceover.

Template Categories
To simplify the navigation and help you find your preferred template easier, we've separated them into different categories.

Starting from explainer videos to logo creation – our video maker is created to make your video creation experience fun and satisfying.
Let's start with the Animation Videos category. From the drop-down menu, you can find various types of promotional templates,  such as Explainer Animation templates, Mobile App promotion, Typography videos, Real Estate promotions, and many others.
In the Intros and Logos category, you can get an opener for your videos or presentations with your desired logo animation. All you need to do is select an opener, upload your logo, add your text and music. Your video will be ready for download in no time.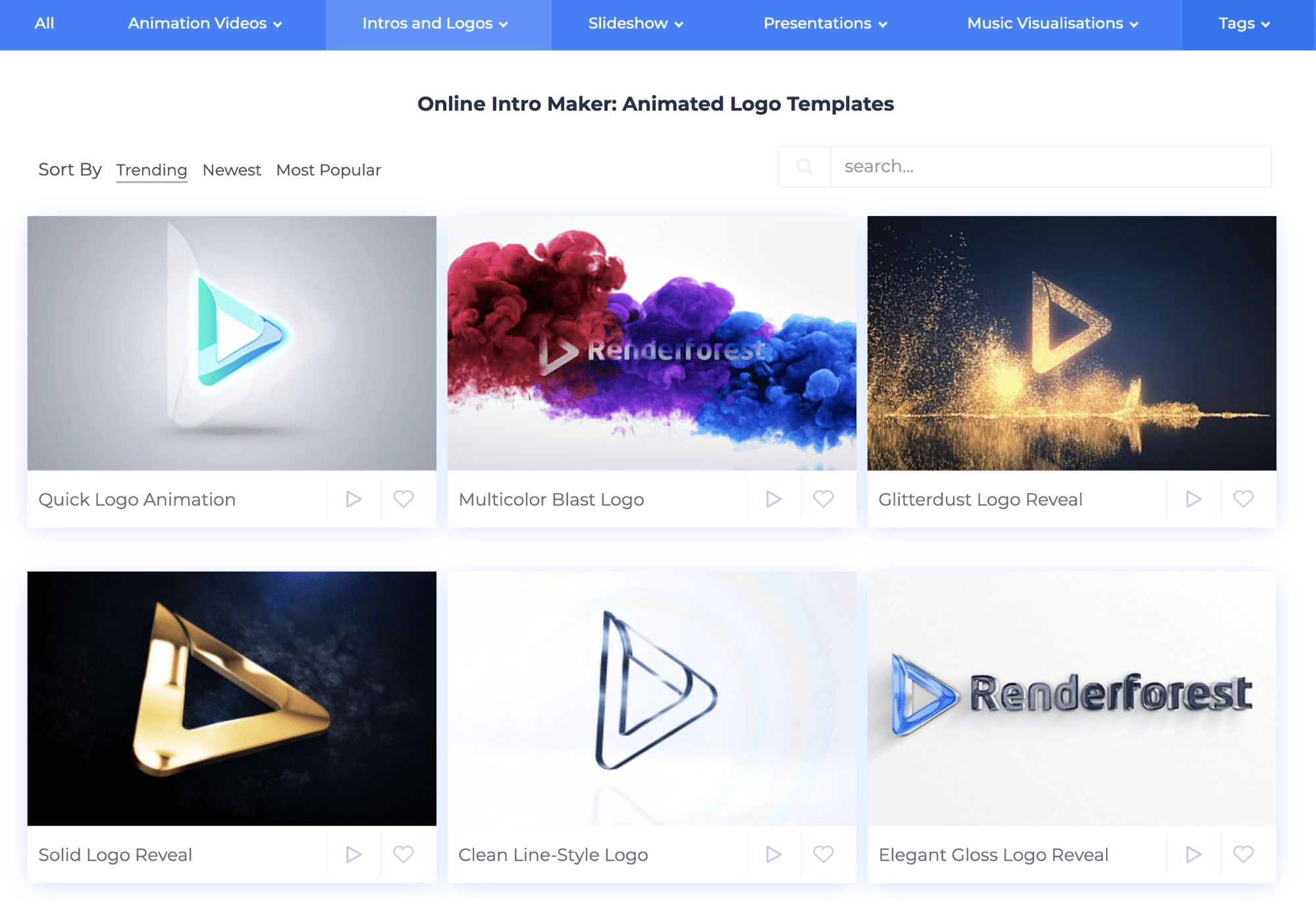 Slideshow is another great promotional category perfect for reels, photos, video portfolios, vacation and event highlights, and many other types of videos. Simply upload your images, edit your text, add audio, and enjoy the result for free.

In the Presentations category, choose any of the available templates to present your company and project in the best possible light. Create professional and educational projects, company introductions, or presentations that will help you stand out. 

In the Music Visualizations category, pick any of the variety of templates to turn your tracks into visual masterpieces. Promote your music channel simply by adding your track. Renderforest will take care of the rest.
Video Toolkits
Besides the standard fixed-duration template, on the platform, you can find flexible and stunning toolkits that include hundreds of scenes. Shaky Typography, Company Presentation Toolkit, Modern Mobile App Kit, Explainer Video Toolkit, Whiteboard Animation Pack, or just Isometric Mobile App Kit. All these tools are at your hand and were created to make your video production possibilities unlimited, easy, and fun.
You can create your video either by choosing a standard template (adding your texts, images, and music) or select our advanced toolkits. They have hundreds of scenes and presets and can be used to create enhanced video projects. You can either use pre-made presets to save your time or start your video creation from zero. 
There is an extensive catalog of characters and scenes to meet your needs. You can select and duplicate scenes, delete them, or add new ones. The changes will automatically be saved and available for re-edit anytime. 


The video editing process is enhanced as well. You can choose your custom duration for the best result, adjusting the length of each scene. The customization process is the same, but you have more control over the final result.
Pick styles, choose pallets, select music, or upload your own. Your project will be automatically saved, and available for editing or downloading from "My Videos" page in the drop-down menu under your name.
For more information on how to get started on Renderforest, take a look at the comprehensive tutorial below:
Renderforest Website Builder
Renderforest Website Builder is an intuitive online editor built with simplicity in mind. Create professional-looking functioning websites and landing pages without any programming knowledge.

Choose any of the available templates separated by categories, customize it according to your needs, and publish your website in no time.

Or create your website from scratch by selecting and adding individual components and customizing them according to your preferences.

The website will be automatically saved during the editing process, and you can access it anytime from the "My Websites" section in the drop-down menu under your name.

Have a look at the step-by-step guide on using our website builder for a better understanding of how it works, or just try for yourself.
Renderforest Mockup Maker
Renderforest Mockup Maker makes having compelling high-end mockups accessible for everyone, without additional software or design knowledge.

Browse through the extensive library of mockup packs for personal and commercial use, including apparel, product, print, and interior mockups.
Select the set you like most and click on any of the mockups to start editing. 
You can check out our article about how to use mockup templates on Renderforest for a little inspiration.
Renderforest Subscription Plans
To download the videos without a watermark, export high-quality logos and mockups, and publish websites with your domain, you can choose our paid subscription plans. We have both monthly and yearly subscription plans. You can also choose to pay for each export; however, this option is not available for the website builder. Find all the details regarding our pricing here.
Why Renderforest?
Renderforest is an all-in-one branding platform that brings video, logo, mockup, and website creation in one place. Easily create slideshows, promotional animations, music visualizations, logo animations, and other types of videos. Design your awesome logo in minutes and build a website your users will fall in love with. And as a final step, create compelling mockups that will showcase your brand in the best possible light. With Renderforest, it's easy and will save you precious time and money.