What's the secret behind successful Instagram accounts that are consistently there with engaging stories, useful content and viral reel videos?
Is there a huge team of 24/7 content creators? 
Do they have a big budget for Instagram?
Well, it might be. However, more often than not, it's a great set of Instagram templates that help to create eye-catching content quickly and effortlessly.
With these premade design skeletons, you don't have to create Instagram content from scratch. Instead, you can select any ready design template, slightly customize it to fit your project needs and publish it instantly with high quality. 
This article lists 25+ trendy Instagram templates for posts, stories, and Reels that are enough to cover your content plan for the whole year!
#1 Fashion: Spring Collection
Meet an aesthetic line of spring collection templates for fashion designers, fashion bloggers or anyone who wants to spice up their Instagram with a stylish look. Promote new arrivals, announce a flash sale or focus on a single item of clothing. And yes, there are stories and Reel s templates as well!
#2 Freshness: Flower Decorated Design Kit
Good vibes only! Translate the feeling of freshness and joy with this vibrant collection of designs for Instagram posts, stories, Reels and IGTV. Best fit for florists, gardeners and anyone who appreciates the beauty of nature. The design kit comes with two key color palettes: pink and purple.
#3 Mother's Day Celebration
Celebrate the year's most important day with this exquisite set of Instagram designs. This template pack is all about feminine beauty, pink tones and personalized messages. It's the best fit for beauty brands, mothers or any store with female-oriented products.
#4 Father's Day Wishes
Not to forget dads! Pick this special template pack to send your warm wishes on Father's Day. Create a photo collage of the best moments with your father, and spread the message of love and gratitude! Suitable for masculine brands, social organizations, family-oriented blogs or simply loving sons and daughters who want to show some love on this special day.
#5 Online Education Pack
Promote your e-learning project effectively. With this set of templates, you can quickly create top-notch visuals and stories to promote the educational event or course online. Make a story about how useful it is to develop new skills with the help of online courses. Introduce lecturers for your online courses and new webinars.
#6 School Content
Make education fun and engaging with this template pack! Perfect choice for schools and educational organizations. Use it to announce new classes, invite students or promote any educational event online. The template pack has many bright colors designed to attract the attention of young minds.
#7 Visual Quotes for Any Niche
Have some wise words to share? Use this template pack for Instagram posts and stories. Choose any quote, add your own text and visuals, and spread a meaningful message across social media. The colors are outdated to evoke a sense of nostalgia so that readers would feel inspired.
#8 Photojournal Designs
Memories are so sweet to keep. Capture all your special moments with a photojournal-inspired template pack. This is perfect for travel bloggers, photographers and anyone who wants to document their life experiences on social media. The templates use earthy colors like brown, mustard and beige in order to underline the feeling of nostalgia.
#9 Photography Collage Pack
Showcase your artwork with the help of our grid-inspired designs. Personalize them to match the style of your portfolio and create beautiful stories on Instagram. Ideal for photographers – travel, wedding, portrait shooters, or else. The templates come with a variety of styles and look to choose from.
#10 Aesthetic Instagram Frames for Any Purpose
Free your creativity. This pack has beautiful frames that can be used for any purpose — music, cooking classes, events and special occasions. Create a unique atmosphere with these modern Instagram frames. Enrich your stories with thematic visuals and engage the audience with your content.
#11 Modern Exhibition
Who says great art is only in museums? Make your artwork stand out with this modern exhibition template pack. Show off your skills and make a splash on social media. It's perfect for any artist — from photographers to painters and sculptors. Import high-quality images of your works to the templates and show them to the world!
#12 Podcast Promotion
The podcasting wave is taking over the world. So, make sure to grab your share of followers. The podcast promotion pack matches all the key podcast trends – bright gradient colors, eye-catchy and modern visuals. Use it for advertising your podcast episodes and generating more downloads. Promote your show in a brand-new way!
#13 Music Release Promo Design
Spread the word about your new music track or album release with this trendy template pack. Perfect for any music producer – from beatmakers to DJs, band managers and more. With modern visuals, stylish fonts and elegant graphics, your announcement will surely catch potential fans' eye. Your fans will love it!
#14 Patterned Background Announcements for Any Purpose
Whatever you have to say, use these showstopper backgrounds for announcements. Whether you have something to share with the world or just want to promote your business, these designs will definitely make a splash on social media. Choose from iconic patterns and customizable fonts and colors that fit any event. With this template pack, it's easy to get your message out there.
#15 Summertime Quotes Design Kit
Awake the everlasting love toward summer. Let your followers take on a journey of joy and relaxation with this summertime quotes template pack. Use it for your summer campaigns, special offers and more. Customize the look with your own colors, visuals, and fonts – these templates will turn any dull post into a masterpiece. Make summer last forever with this design kit!
#16 Tech Event Promo Pack
With the glossy black look, stylish fonts and futuristic visuals – this template pack has everything it takes to promote any tech event or conference. Perfect for those with something to show the world — from gadgets and apps to projects and products. Compose a powerful story with this template pack and make sure thousands see your latest launch of people!
#17 Charity Announcements Pack
Create an online awareness campaign or spread a message of joy with this template pack. Promote your charity and make a difference in just a few clicks! Show off your cause using eye-catching visuals, modern fonts and beautiful layouts. This is the world of endless kindness. Just ensure people are informed about where they can make a difference.
#18 Cute Pet-Themed Designs
What's been proven to work well on Instagram? Correct, the cuteness overload of pet-themed designs. Get your followers' attention with this unique template pack tailored for pet lovers and animal activists. Use it for the pet owner's blog, vet clinics, social organizations for pet protection, and more. Make your furry (and not only) friends Instagram stars with this template pack.
#19 Multipurpose Social Media Kit
Couldn't find your best match in the above template packs? Here is the collection of universal designs that suits any event. Whether you need to promote a business, an upcoming live show or an online course – this kit will be your go-to choice. Customize the design with your own colors, fonts and visuals for a unique look.
Dynamic Instagram Templates for Reels
Though there is no exact success formula for creating viral reels, some factors that influence the reaching potential of the videos are known to many.
Your Instagram reel is likely to succeed if…
It's fun and entertaining, usually with some surprise or twist

There are creative tools like text, advanced filters or professional camera effects

Your video uses sounds from Instagram music library
So, you can guess it. Reel making is an experimental process where you should ensure the maximum attractiveness of your video and try, try and try!
How Can Renderforest Help You?
Renderforest has a simplified yet super effective video-making tool that can help you create amazing reels for Instagram.
Option 1: Our Instagram video templates are for every occasion and event. They are 100% customizable, so you only need to fill them with your content, choose from a wide range of soundtracks and animate text.
Explore Instagram Video Templates!
Option 2: You can also create videos from scratch by uploading them from your device and refining them with the help of Renderforest's powerful video editing tools.
In case you prefer the quickest option to get an Instagram reel, here are some cherry-picked Instagram Reels Templates for you to choose from.
#1 Instagram Profile Promo
Do you have a new business or a product to promote? Skip boring announcements and do it with this spectacular Instagram profile promotion video. Add your logo, tagline and media files, customize the colors and share your story with the world! Position your new profile in the best light right from the beginning.
#2 Easter Reels Pack
Get friends with the cute Eastern Bunny to wish your followers the best Easter ever! Create a truly festive atmosphere for your Instagram followers. Upload Easter greetings, promote your business or event and wish everyone a happy Easter in your own style!
#3 Fashion Promo Opener
Promote your fashion brand or store, announce a new collection launch or simply share your styling ideas with this fiery opener video! Make it look stylish and post it on Instagram for wider reach!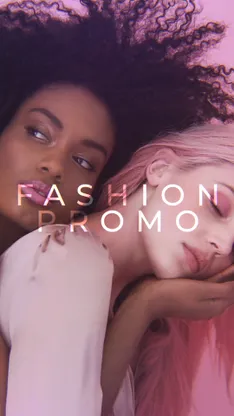 #4 Vibrant Titles Opener
Use the robust combination of typographies and dynamic transitions to share a notable video message on Instagram. This is a universal Instagram template that can be used for many occasions – company introductions, channel intros, promotional videos, product launches and much more.
#5 Event Teaser Promo Pack
Spark the interest of the potential attendees for your event with this teaser promo pack! Make a stunning announcement for festivals, shows, conferences and any other type of event. Add your media files, change the text and let Renderforest animate it for you.
#6 Instagram Stories Pack
Upgrade your Instagram stories with this beautiful template pack full of amazing animations, inspiring backgrounds and stunning fonts. Your stories will take a new meaning with this captivating template pack.
#7 Polaroid Photo Gallery
Use the authentic polaroid vibe most of us love so much to post your photos and share the best moments with your followers. Take a trip down memory lane, tell your stories and make your Instagram content more engaging and interesting.
#8 Messenger Chat Pack
Play with the illusion of entering someone else's chat in real time. Add any message you want to share to the chat bubbles and make your Instagram stories come alive. Create a friendly conversation around your content and make it look more alive.
The Bottom Line
Here we are with some life-saving Instagram templates that minimize your input and maximize the impression you make on your Instagram followers.
Ready to start creating more captivating and engaging Instagram visuals? Go ahead!

Recommended Reading
---
---