April 18th, 2019, is a special date for our team. The most awaited video template went live. This one of a kind project was in process for over 2 years.
The idea of creating the world's first 3D video template was dreamed up almost from the start of the company itself and now, with hard work and consistency, our talented animation team was able to make it a reality.
The template was going to be a unique opportunity for marketers and business representatives to deliver the ultimate visual storytelling experience to their audiences with broadcast quality cartoon animations.
During the past 2 years, the team designed and animated each and every element of the characters, icons, backgrounds, and transitions with the tropes and techniques used by contemporary 3D filmmakers to make you rethink how 3D can be used to enhance visual storytelling.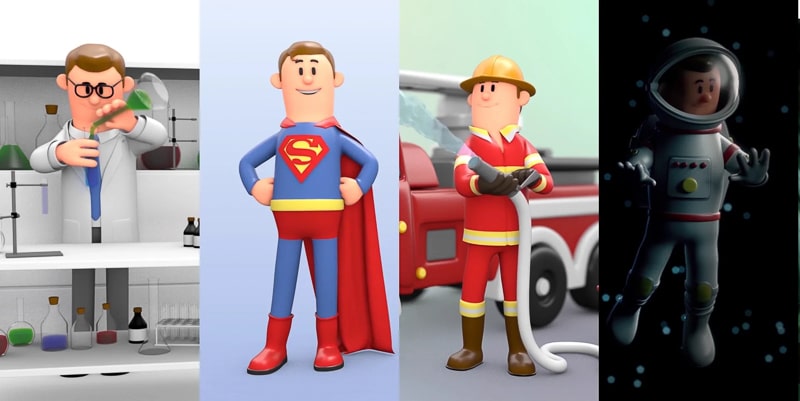 Although within that time, the team of animation artists working on the project increased, Murad was the one who ventured to start the project. 
"This project was a great responsibility for me. By that time, the most successful video template was the Explainer Animation Toolkit. Creating the 3D version that will surpass the previous success was my greatest motivation."
It wasn't once that Murad was about to give up, especially at the very beginning, when the heavy load was about to take over on him, but as time passed by and Murad has become more and more confident about what he was doing, the situation has changed. 
"Every beautiful thing requires sacrifice, he says." (half kidding)
Recommended Reading
---
---
What fascinates Murad the most about creating 3D animations is creating a whole new world with characters living in it and acting the way you want them to. 
"This is a kind of power I have over an imaginary world. I always dreamed about telling stories with the help of an animation, and creating something that would help others to realize a similar dream was something overwhelmingly exciting to me." 
After days and days of discussions, the first sketches were made. Then it took a long phase of processing the styles, colors, and materials of the characters before the animation process could begin. 
Murad confessed he'd given unique names to each of the characters, but he believes the names should not be announced so that everyone could make each of the characters his/her own by giving them a name they want. 
After the basic characters were crafted, an idea of making the business-oriented version appeared and soon new business characters were added. 
With more than a hundred animated scenes, Murad became so emotionally connected to all the characters that adding new enhanced ones became a great joy for him. 
His favorite scene is the bar scene with the lonely (male) character drinking beer, and the barmen carefully wiping the counter.
"I don't know why I loved that scene so much. Maybe it's because I managed to create a persuasive animation that perfectly conveys the atmosphere. After I finished this scene, the art director was standing with a warm smile on his face, so I thought I outdid myself."
The main difficulty of the process was the fact that some scenes contained too many heavy details that resulted to slowing down the whole creation process. Sometimes it took him more than 5 minutes to see the littlest change he was to make on the project. 
One of the most difficult scenes was the campfire scene with three characters having a friendly time at the camp. The scene contains more than 100 trees, which made the rendering of each tree extremely difficult. 
Sometimes, weeks of hard work would go down the drain, but our animation artists are not those who give up easily. That's why after a year of hard work, the toolkit went live and by its second birthday, it already had 1000 scenes. 
During this time the team went through lots of thick and thin. 
"I remember when I was working at the handshaking scene, it was almost ready and approved by the art director and everyone else, when Artyom, a very observant colleague noticed that the characters were handshaking with left hands. Nobody noticed that before, so after, I had to remake the whole scene and adjust it for the right hand."
Every animation was made with live-action references. Studying how people move and what gestures they use when saying things has been a daily routine for Murad and others working on the toolkit. 
"I like watching people talk. Sometimes I don't even listen to what they are saying. I'm eager to know more about how they move, so I can use their gestures in my 3D making processes" (half-kidding)
In one of the scenes, where a character speaks sign language, he uses the real meaning with actual gestures. 
He's saying: "Hello. My name is Jeremy. Nice to meet you. I can sing a little bit." 
For making the scene, Murad started studying sign language and got so fascinated about it that it became a hobby for him for quite a long time.
"I used to watch video references a lot to see how people move and what facial expressions they have while doing something. I don't have to find a reference video every time, of course, but in the scene where a child plays rope, I needed to see how they do that as I've never done it in my life."
His eagerness to constantly learn and develop new skills and knowledge during the process was the main reason the project was a complete success.
Now, our users can create high-quality animated videos by just selecting professionally crafted ready-made scenes and telling persuasive stories with excellent animation.