Here we are in the era of video content, where a motion-based visual presentation seems to be one of the most effective ways to grab the attention of your audience.
Around two-thirds, or 66% of surveyed consumers, state that short-form videos are the most engaging type of content.
In response, 91% of businesses used video as a marketing tool in 2023, which is an all-time-high metric starting from 2016.
And the effort does pay off!
91% of marketers who used video claim they recorded a traffic increase, 90% prove to get new leads thanks to videos and 87% say they increased sales with the video content (more in the source).
So if you're not yet into video content creation or are not involved with your full potential, it's high time to change the course.
What's Holding You From Making Great Video Presentations? 
Here's what statistics hint us…
Source: The State of Video Marketing 2023, Wyzowl
If you're among that 30% that is too busy to create videos, we probably can't help much here 🙂
But if you're that video content enthusiast with a bunch of creative ideas who just don't know where to start or thinks they should spend a fortune on fancy equipment, then we have the good news!
You can have professional-looking video presentations spending from $0 – 20 and around 5-20 minutes per presentation in 2023!
No jokes! The below video presentation tools will help you with that!
Renderforest's video presentation maker has a premade templates library where you can find something for each occasion. There are categories for the most popular use cases like corporate presentations, company introductions, explainers, educational videos, and more that you can customize according to your preferences.
The video presentation templates are already designed with graphics and animations that suit the video's purpose. It's up to you whether you will customize all the elements to match your brand identity or use them as they are. In both cases, creating a professional-looking video presentation can take starting from 5 minutes from you, based on the chosen template. 
Editable Video Presentation Templates for Every Occasion
You can find all the video presentation packs in Renderforest's template library. Below each presentation pack, you can see the number of scenes the template contains, so you can estimate your customization opportunities for the video.
To get more information about the template pack, click on it for a quick video overview. Use the "Create Now" button to customize it according to your brand identity and preferences.
Once you are in the template pack, check video presentation templates for specific niche cases. For example, a Social Media Toolkit pack includes video presentations for digital marketing course promos, birthday video cards, coffee shop social ads, etc.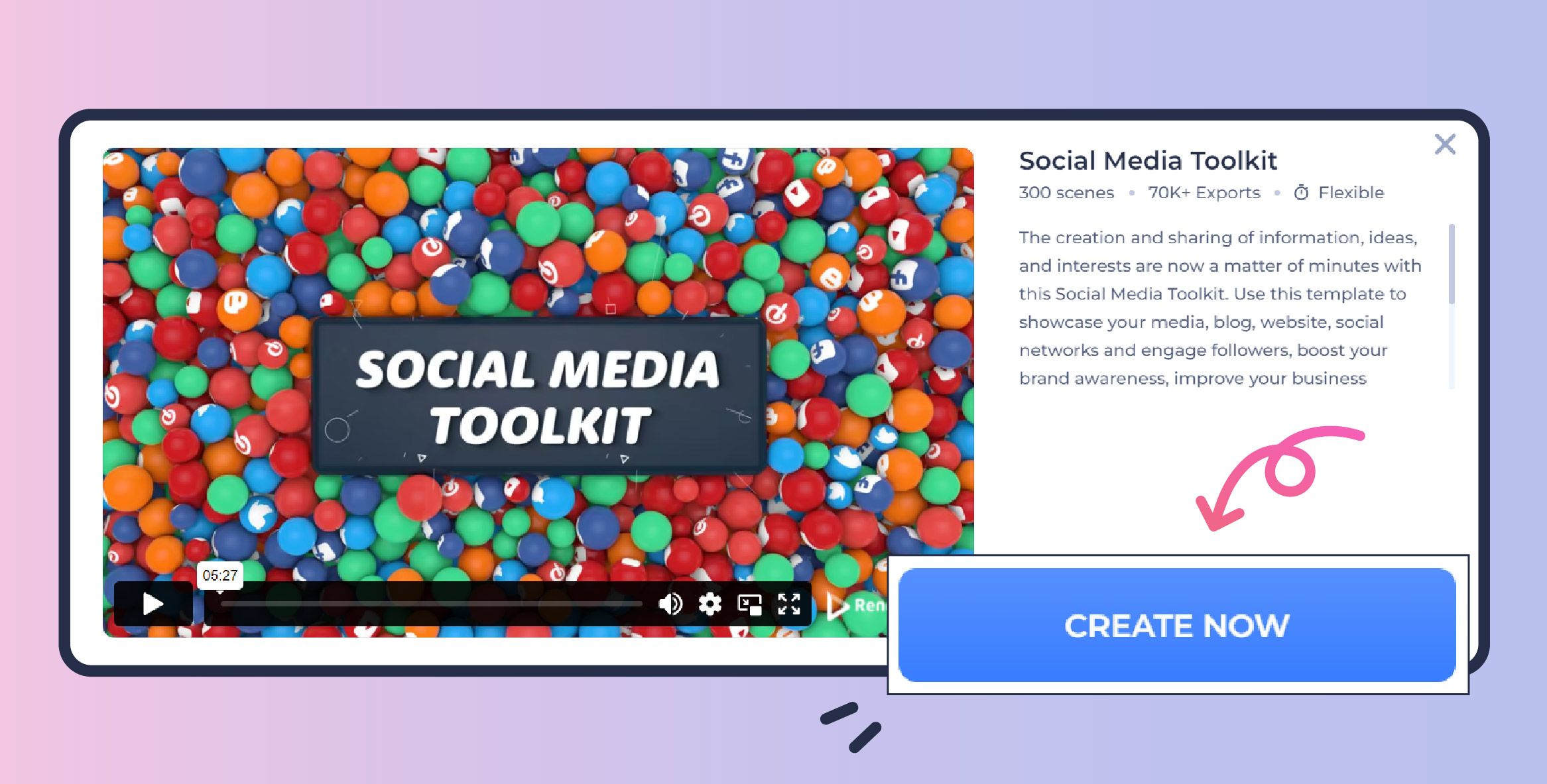 Click on any video presentation template to preview its premade version. Further, press "Edit This Template" to explore all customization options.
With a single click, you will land on the editing dashboard and can drag and drop elements right on the timeline to create a professional-looking video presentation. There are options to duplicate, replace or add new elements to the video. Press the + section to instantly access hundreds of images, icons, and videos for your presentation template.
For example, you can add logo animations, social icons, checklists, photo collages, etc.
You can also upload files from your device or embed your preferred content's URL to add media elements to the video.
Once you finish customizing your presentation, press "Preview" to watch the result and click "Export" afterward if you're satisfied. You can opt for the free export that will land you in H.D. video format (up to 720p). In case you need a higher resolution, quickly upgrade your account right from the dashboard and get the video with HD1080.
Renderforest Explainer Video Toolkit
If you're interested in creating high-quality explainer videos, Renderforest's rich library of characters, backgrounds and geographical locations can help you! There are 3D characters of different professions, gender and age with a wide range of animation options. Whatever you want the character to express, you can find it in the library! 
After you're certain about the character, move to the backgrounds' library to choose where your video will take place. You can find urban locations, office spaces, nature settings and much more. There are even geographical locations and virtual sets that you can use to take the video presentation to the next level.
Background animations last around 15 seconds, allowing you to enrich your video presentation with a real-life setting quickly.
Besides, you can transfer your explainer video events to popular geographical locations of your choice. With a single click, your video character can appear near the Eiffel Tower, the Egyptian pyramid or the White House.
To access the above-mentioned and more features, click "Replace" inside your template's scene and navigate between elements from the left side panel. 
Renderforest Trendy Explainer Toolkit
The trendy explainer toolkit contains all the key elements of explainer videos wrapped up with dozens of 2D and 3D characters, motion typography scenes, background animations, music tracks and much more. 
Renderforest Whiteboard Animation Toolkit
The whiteboard animation toolkit contains a wide selection of whiteboard animation templates with different themes and topics. This toolkit will help you with a minimalistic but powerful video presentation in a few clicks.
Renderforest Business Presentation Pack
Want to add a professional touch to your business presentation? Look no further; the Business Presentation Pack of Renderforest has you covered! You can find a wide selection of draft slides and motion typography scenes with different topics, such as corporate identity, sales analytics, product launch and more. 
Renderforest Modern Infographic Pack
Lastly, present business analysis, stats, or other important data with the help of modern infographic templates. Each template can be easily customized and completed with different shapes, icons and motion elements. Pick your favorite one and create an impressive animated video in minutes! 
Pricing
Free: $0.00/mo – Mostly designed for HD720 content
Lite: $9.99/mo – For promotional and explainer videos, presentations and graphics
Pro: $19.99/mo – The highest quality videos and graphics, professional websites
Business: $29.99/mo – Advanced-level solutions for the whole team
Biteable mostly specializes in corporate and short animated videos, so its premade design elements contain more sophisticated elements like charts and graphs, illustrated characters, and more. This allows you to design your monthly reports, business analysis presentations and other corporate videos with ease. 
The tool also offers collaborative and editing tools so you can work on videos with your team members in real-time. This can be helpful for group projects or for managers to approve certain material before publishing.
Also, you can share your created business presentation by email, Microsoft Teams, WhatsApp, Slack or SMS.
Pricing
Pro

: $49/mo – Unlimited H.D. exports and cloud storage, 24M+ stock footage and image clips, royalty-free music library, and more. The access is for one user only. 

Teams

: $99/mo – Access for up to 3 team members and the ability to add new members ($33/month). Collaborative editing and team folders, premium business soundtracks, and more․ 
Lumen5 is a great chance to enhance the storytelling of your business. It has many features like text-to-speech, motion effects, a music library and much more to create great business video presentations.
There is an A.I. built for repurposing content, which can automatically turn blog posts into videos, zoom recordings into captivating clips, etc. This allows you to save much time on creating presentation content from scratch.
Lumen5's video presentation tool works like a PowerPoint, meaning it allows you to drag and drop different elements, edit the text, add images and videos, as well as set up the narration.
The platform also provides access to millions of premium photos and videos to customize your video presentation.
Pricing
Basic: $29/mo – For creating simple videos without Lumen5's branding. There is unlimited access to stock images and icons.
Starter: $79/mo – More suitable for individual creators, allows for customizable fonts and colors, and 1080p video resolution.
Professional: $199/mo – For professional storytellers. Allows to add custom fonts and watermarks. Users can work on multiple brand kits and saved templates.
Animoto's primarily designed for small businesses, H.R. people and marketing agencies to create promotional videos, explainer videos, and other video presentations. The platform has an extensive selection of stock images in its Getty Images library, as well as a built-in screen recorder to fill in the blank sections of premade video presentation templates.
The tool is great for creating customized videos for your business. Once you upload colors, fonts, logos or other brand elements to Animoto, you can save them and apply them for future animations.
Animoto is also a great collaborative environment where you can invite anyone from the team to add time-stamped comments. You can further reply to comments and create a convenient working environment right inside the video editing template.
The video presentations can be downloaded in HD1080 quality or shared from Animoto directly to your preferred social networks.
Pricing
Free: There is a forever-free plan with certain limitations.
Basic: $16/mo – For creating unbranded videos with unlimited downloads.
Professional: $29/mo – For creating highly customized video presentations (includes most professional tools)
Professional Plus: $79/mo – For branded videos at scale (includes several advanced editing tools)
The key corporate departments that can benefit from Powtoon include H.R., Training and L&D, Internal Communications and Marketing. For all those professionals, Powtoon can become the go-to video presentation tool to create creative, interactive and animation-rich with simple drag & drop tools. 
Powtoon is also popular among teachers or students who want to add engaging storytelling to monotonous PowerPoint presentations.
Powtoon is a reliable source for corporate video presentations as it's an ISO-certified private cloud that can be used to store, edit and share video presentations only with the internal team members or external stakeholders of your choice.
Similar to most of the other platforms, Powtoon provides access to many custom templates, photos, and audio recordings to be used in video presentations. Additionally, it allows you to create your custom characters and use them in animated videos.
Pricing
Lite: $50/mo – Limits to 5 premium videos a month and video length up to 10 minutes. Video presentations can be downloaded without Powtoon branding.
Professional: $190/mo – No limit on premium exports and the usage of PRO templates. The video length is exceeded 20 minutes.
Business: $100/mo – The lengths of videos is extended to 30 minutes and users have the reseller rights.
Vyond is a video presentation tool actively used by H.R., Marketing and Sales departments to boost communication and animate monotone presentations. 
The platform comes with a library of characters and props to create videos from scratch – L&D training courses, explainer videos, sales pitch videos, eye-catching marketing assets, etc. Vyond's packages are tailored to the specific needs of every company. There are solutions for enterprises, small & medium businesses, resellers, affiliates, and agencies. 
The video presentation templates are classified by job role so that it's very easy to filter through the library and find the most suitable template for your task. 
From presenting the company's annual report to agency pitch videos and beyond, Vyond allows you to create video presentations that will work times better than static presentations.
Pricing
Essential: $49/mo – All videos come with the Vyond logo imprinted on them
Premium: $89/mo – A single-user plan with high-quality exports
Professional: $179/mo – A scalable package for medium and large businesses with advanced tools and priority customer support
Enterprise: Custom plan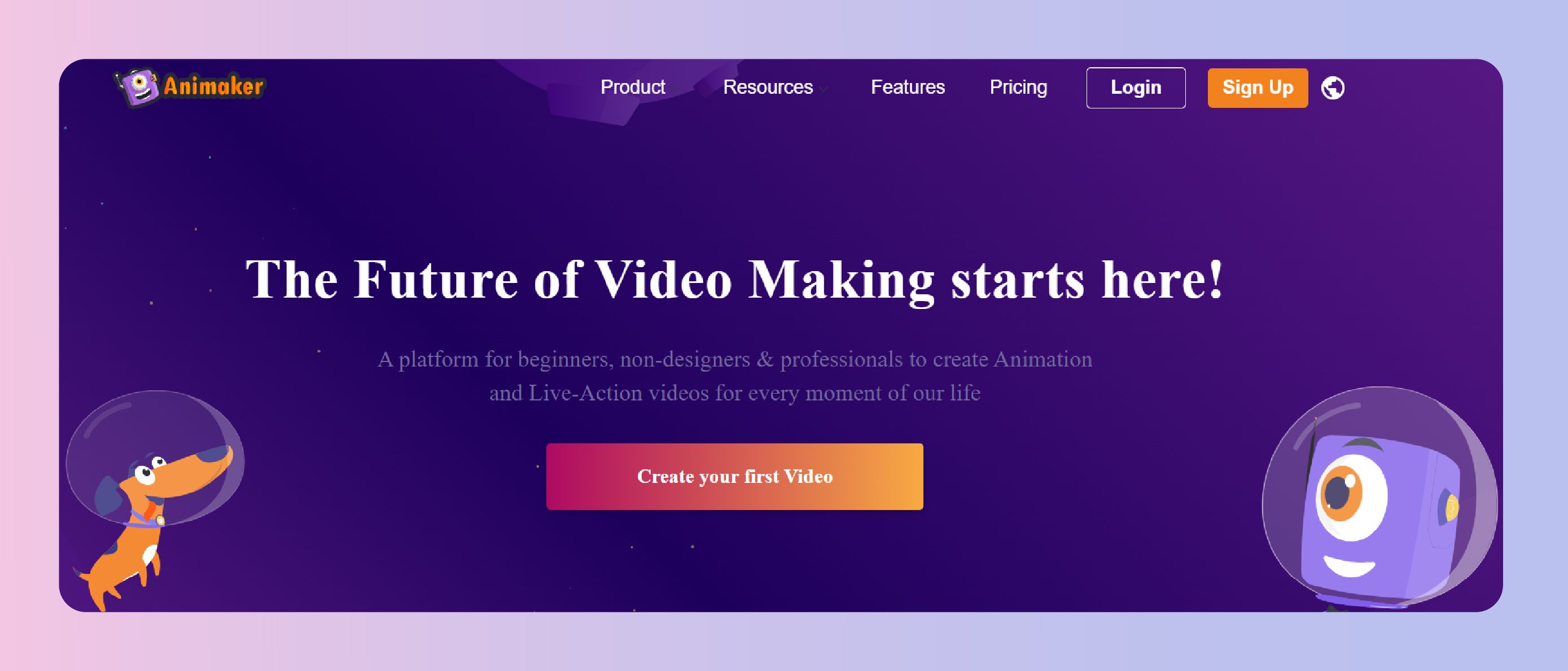 Animaker allows you to create two key types of video presentations – animation and live-action videos. There is a powerful character builder that can be used to create characters and add them to the videos. You also get access to premade templates, audio recordings, a library of images and photos, charts, etc.
The live-action video presentations can be created using real footage and then edited with Animaker's editing tools. The platform allows you to upload 4K videos and further use its editing tools to add subtitles, annotations and more.
There are several video presentation categories to cover most of the business and enterprise needs – Facebook and Instagram videos, advertisement videos, marketing campaigns and holiday or birthday wishes.
All the templates are customizable with drag & drop tools and can be exported in high quality to be used anywhere.
Pricing
Basic: $20/mo – Limited customization tools – video length up to 5 minutes, 5 downloads per month and max 5 custom characters
Starter: $35/mo – Video length increased to 15 minutes, 10 monthly downloads and 15 custom characters
Pro: $79/mo – Video length of up to 30 minutes, 30 custom characters and monthly downloads + 2K video quality
Enterprise: Custom plan
Visme has powerful video presentation templates for Facebook, Instagram, YouTube, Twitter and other channels where you can easily place your video content.
The 8 key roles that Visme identifies as being primary video presentation users are Agencies&Consulting, Nonprofit, Education, Enterprises, Marketers, Sales teams, Human resources, Training and Development.
For all those positions, Visme provides a wide range of customizable templates and tools to create and edit professional-looking video presentations. There is a library of more than 10,000 templates for any occasion. Additionally, Visme's digital asset manager allows you to upload logos, fonts, colors and images to be consistent in all your projects.
Additionally, the platform also provides the ability to track analytics and measure the performance of each video presentation. You can access the in-depth analytics to monitor how your target audience engages with the video content.
Pricing
Basic: Free – Storage limit of up to 100MB and limited access to templates
Starter: $29/mo – Storage limit of up to 250MP, unlimited access to templates and 24/7 support
Pro: $59/mo – Storage of up to 3 G.B., access to analytics and export of any format including PPTX, HTML5, video and GIF
Enterprise: Custom plan
And here is the last item on the list of video presentation tools. Wideo is a browser-based video presentation platform that allows users to create marketing videos, explainers, intros and more.
You can upload your own videos and further customize them or use the animated templates. In either case, the MP4 format download feature is active, allowing you to export your projects in the highest quality.
The platform also provides industry-standard features such as a stock music library, text and voiceover support, and an asset library with images, videos and logos.
If you're more specialized in educational videos, explore the platform's Webinar Pack, which can provide you with the video content for all stages of your webinar – from introduction and promotion to webinar summary.
Wideo's enterprise solutions also have specialized template libraries for real estate companies to turn static digital listicles into dynamic, interactive presentations.
Pricing
Free: $0/mo – All videos are branded, access limited to 10 video templates and the video duration can be up to 1 minute
Basic: $59/mo – Access for 33 video templates with 10 monthly downloads. Video length is limited to 1.5 minutes
Pro: $99/mo – Unlimited downloads and full access for all templates. Video length is increased to 10 minutes
Pro+: $199/mo – Unlimited downloads for up to 30-minute-long videos. You can add 1 additional account to this package.
To Sum Up
In this article, you have at least 9 examples proving that creating a quality video presentation is much easier than you think. All the video presentation tools listed above provide intuitive interfaces and user-friendly features to make sure you don't get lost in tech jargon.
Moreover, many of them are available at an affordable cost. For example, Renderforest's low-cost plans let you create and download videos in H.D. quality by spending around $10 a month.
So, no more excuses. Start creating powerful video presentations to impress your audience!
Recommended Reading
---
---