Every successful business needs a professional corporate presentation to match its values and brand image. Be the changemaker of your sphere and lead innovation. Regardless of your occupation, being able to create compelling and informative presentations is a valuable skill.
Forget the outdated and complicated presentation creating apps and start a journey with an all-in-one online editor. Business plan, annual review, or a fresh in the market startup pitch? We got it all covered. With Renderforest's graphic design software, all your marketing solutions are combined in one! Browse all our presentation templates and choose the suitable one.
In the meantime, let's run down the list of 10+ corporate presentation templates to help you find the design and layout that works the best!
Making presentations is easy and fun with this corporate presentation design pack. Designed by professionals, this pack includes over 150 slides with unique layouts. Choose the slides, customize the sections, and your corporate presentation is ready to go. Use it for online and offline meetings, reports, business events, and more. Give it a try today!
Use this presentation kit for all your corporate needs. The wide variety of 100+ scenes offers different layouts and designs. Choose the slides based on your content, customize the text, colors, and media, and finalize your presentation with your contact details and a thank you page. Perfect for reports, updates, corporate meetings, and more. Try it today!
These corporate presentation slides will meet all your professional needs. Over 100 scenes, unique layouts, icons, charts, and more are at your disposal. Choose the slides, customize the text, and share your presentation. Use for corporate events, reports, investor meetings, and more. Create today!
Add a touch of creativity to your presentation with this whiteboard presentation template. Choose from a wide selection of slides, customize them with your text, and experiment with colors to fit your presentation. Use for corporate events, team meetings, and much more. Try for free!
Need a presentation that is professional, modern but also fun and approachable? Look no further. These designs have everything a successful start-up pitch needs: market analysis, solutions, statistics, financial background, and more. Present your products and services, and receive investment, cloud, and more attention.
Catch up on trends and the latest marketing strategies. Create informational slides about SMM trends and bring co-workers around the discussion of changes in the field of marketing. We live in the day and age of technology that evolves faster than ever before. Keep up and try these templates out!
Every successful business starts with a well-thought-out plan. Cut on the paperwork, create a presentation that is easy to understand for all your team members, and present your presentation idea. Schedules, team assignments, needs, and goals are carefully explained with this Business Plan Pitch Deck pack.
At any stage of your company's professional journey, you need to have a corporate overview presentation at hand. This could be great for introducing audiences to what your company does, presenting investors with the financial growth possibilities, or inducting new employees. Mix and match slides, change order, colors, design features to your liking, and enjoy the luxury of being prepared at any given moment.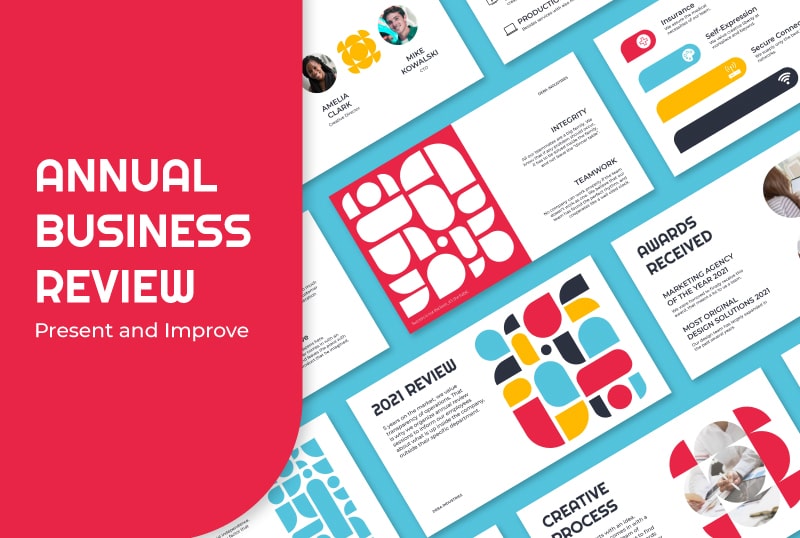 Track the success of your company with a variety of modern design slides. All the big companies on the market are renowned for their regular assessment of past work and annual discussion of activities going forward. Create a compelling business review presentation, and involve every employee in the decision-making process. Mold leaders and celebrate achievement.
There are various corporate presentation styles, and one most used in the creative business sector is a portfolio presentation. It concentrates greatly on presenting investors early on, showcasing the creative work done and including its business details. Keep on working on great projects, and Architectural Portfolio Slides will showcase them in the best light.
Marketing is an inseparable part of any venture. Big or small, every business benefits from a precisely planned out marketing strategy. With Renderforest Graphic Maker, you also can create slides that discuss past achievements, dissect the mishaps, and focus on future goals.
In need of a professional team profile presentation? With Team Assessment Slide Deck, you can be sure that all the layouts and designs you'd need are in one pack. Creating a successful presentation couldn't be easier with Renderforest Graphic Maker. You can choose from a wide variety of stock images or upload your own, customize the color scheme to match your brand identity and alter ready-made texts to your needs.
Discover a range of possibilities with SMM graphics, posters, flyers, and more. Try Renderforest Graphic Maker and create marketing visuals with easy-to-use tools and endless customization possibilities.