Using explainer videos is getting more and more popular these days.
This is because visual content is more engaging. A well-made explainer video gives people a rundown of what your products or services are, and how they work, in the span of a few minutes.
An explainer video can effectively capture viewers' attention. The more viewers spend time on your website, the higher ranks are noticed in search engine results. So, including videos on your website will also support your SEO efforts.
People prefer to watch videos rather than read text because it is all about the visual experience. It is not only perfect for people who don't like to read, but also for a wide range of audiences, who prefer to save their time on the information consuming processes.
If you want to showcase your idea, tell a stunning story, or present your new project in an engaging way, an explainer video is a must for you.
With Renderforest, you can create high-quality explainer videos in a matter of minutes without having any technical skills. It offers explainer video templates you can use to create animated explainers on any topic and for any occasion. Ranging from 3D and 2D templates to general animations, all those templates can be used for making professional product explainer videos.
Before starting your video creation process, check out the explainer video below that we've created with one of our templates.
After you sign up or sign in to your Renderforest account, go to the "Create video" section situated on top of the page. Here, you have a wide variety of templates that you can view and pick for your project. If you want something specific, use our advanced search filters to find exactly what you need.

If you're not sure which template to choose, you can use the same template that we've used to create the video above. Have your script ready and click on the "Explainer Video Toolkit" template.

This template offers three options for you to create your video: create a new project by selecting scenes manually, choose one of our ready presets, or use our AI-based system with relevant scenes based on your video script.

There's a wide variety of presets created on any topic and for any industry. In case, you want to use one of them, click on "Load a preset" and check them out. Once you select a preset, click on "Use ready story" and start customizing the scenes with your media files and text.
We have used the "How Can We Help You?" preset for our project.

As for our AI-based system, it gives you a new opportunity to create videos based on AI and Machine Learning algorithms. Type your script, and our automated system will suggest scenes based on the text provided by you. Click on "Add my script" to give it a try.
It will not only save your time during video production but also allow you to consider several possible scenes for the same script and choose the best one. Click on "Generate project" to continue.

However, if you prefer to select scenes manually and create a new project on your own, choose the "Add scene" option. This template offers 23 scene categories that can be used to promote any product for any industry.
Click on "Insert" after choosing the scenes, and they will all appear on the editor with your selected order.
On your timeline, you can change the position of the scenes, delete and replace them, as well as add new ones if necessary.
There are several ways to add your image and video files: by image or video URL, upload a file from your device, pick an already uploaded one, or choose an image from our stock library.
In our "Stock image" or "Stock footage" library, you can find media files suitable for your project. Search the keyword, select a file, and click "Insert" to confirm.
Once you add your image, adjust it by rotating or cropping it to match the size of the image holder.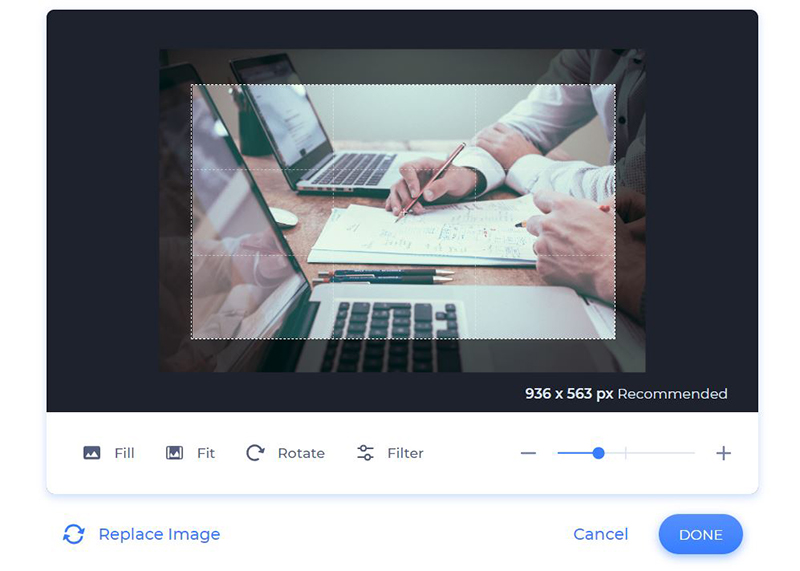 The videos in their turn can be trimmed and muted to go well with your whole project. This way you can choose the exact parts that you need for your explainer video.
To add your text to the scenes, click on the text holders, type in or paste your text and click "Save and close" to keep the changes. Make sure your text doesn't exceed the recommended number of characters for each scene, so it looks more professional.
At the end of your video, add a scene with a logo holder and upload your logo. If you don't have one, there is an option for you to create it right on the spot. Click "Create logo" to start.
Next, choose the style of your video. This template offers 4 overall looks for your project: standard, texture, wiggle, and flat versions.
In the "Style" section, choose the font of your primary and secondary text. The "Generate" button will help you see the changes in your scenes, before moving on to the next step.
Then, go to the "Color" section and choose the main colors of your video. Use the color palettes offered by our design team, or create your own color combination for your project.
To add a background music track to your video, go to the "Music" section, check out the tracks in our music library, and select the most relevant one. Feel free to upload a track from your device as well.
Do you want to add more information to your project? Great, click on the "Add voiceover" button to record or upload your voiceover.
Good job! Your video is almost ready. It's time to go to the "Preview" section and see the final result before downloading it.
Click on "Free preview" to see whether your video looks good or not. If there are things you want to change, no problem, go back and edit them anytime.
There are two options for you to download your video. The first one is the free option, which offers SD360 quality videos with the Renderforest watermark. You will be able to edit, download, and publish your videos whenever you want.
With the "HD export", you can choose one of our paid subscriptions and download your video in high quality and without a watermark. All the details about our pricing are available here.
Enjoy your video production process with our video templates and create professional explainers to shine among your competitors.
Would you like to start creating your video now?
Click the button below to start!