One of the strongest indicators of a solid, dependable business is a robust website.
Think like a customer: What would be the first place you'd head to if you were looking for reliable, updated information about a business? Their website, of course. How would you, as a customer, decide whether the business is trustworthy? By the quality of the website!
So, having a well-built website for your business is essential. But how to start a website if you have limited or no technical skills? We're going to take you through the step-by-step process of building a website from scratch to ensure you're well-informed about all the stages of the process. 
Ready to start? So are we!
What is a Website and Why Do You Need it?
How to Create a Website in 5 Steps
How to Promote Your Website
What is a Website and Why Do You Need it?
A website is a collection of related content on the web that's published under one domain name such as google.com, wikipedia.org, renderforest.com, etc. Most websites have a specific theme and purpose and are woven around a particular topic. This creates the many types of websites that we have today. 
The benefits of a website are invaluable for businesses. The majority of customers seek information online before making purchasing decisions. Thus, if you have a weak online presence or none at all, you're missing out on a lot of opportunities to connect with consumers.
Other reasons your business needs a website are the various opportunities to expand your existing audience, generate more leads, deepen your connection with customers, build authority, and strengthen your brand's reputation.
How to Create a Website in 5 Steps
Now let's explore the process of creating a website from scratch. To simplify your journey, we have broken down website creation into five distinct steps you can follow to make sure you end up with a holistic, well-constructed website.
Make a Plan for Your Website
Before you start to create a business website, you need to develop a vision for what you want to achieve, thus making a clear map to guide you. It's important to determine beforehand what your website is meant to accomplish to then create it in a way that serves that purpose.
It all starts with a faint website idea which then you develop by going through the website planning process. Here are some ideas to spark your creativity if you don't know where to start.
There's a lot of research, devising, and planning involved in the first stage of creating a new website. So let's see what you need to pay attention to while mapping out your site.
Identify the Purpose of Your Website
Just as your company has a defined purpose, so should your website. What do you want to do on this platform? And how does it align with the core mission of your brand? Instead of adopting a general, vague purpose, try to be very clear and specific with your statement.
Do you want to create a website to educate, spread brand awareness, capture leads, or sell products? If your primary aim is to educate your audience and establish your brand as a thought leader, your website will need a blog. If your aim is to promote a single product or project, you can go for a simple landing page.
To create an online store, you'll need a full retail website with e-commerce integrations. Besides, if you plan to sell from your own site, it's a good idea to test your product idea on Amazon before transferring that proven product line to your site.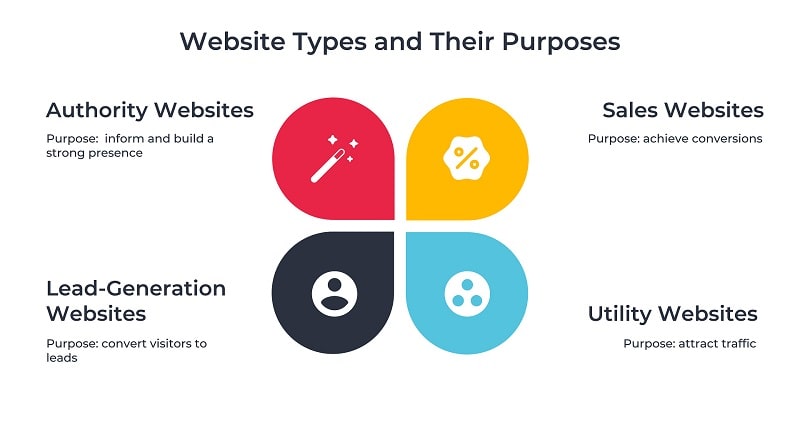 When you have your bigger vision, you can then set smaller, achievable goals to gradually take you to your target. Begin by separating the short-term and long-term goals you wish to achieve with your own website. Keep your objectives practical and realistic to avoid wasting resources as a result of getting sidetracked.
Identify the key metrics by which to measure your accomplishments and set a time limit for your important goals. Do you want your website to achieve a certain level of engagement within six months? Specify it, break it down into manageable steps, and track progress along the way.
Every business is aimed at a specific demographic, as it would be futile to try to appeal to everyone at once. The narrower you make your target, especially as a midsize or small business, the more likely you are to attract the right people to your website.
Examine your existing customer base to see what groups of people to target with your website or determine a new audience you wish to connect with if you don't have a dependable group of clients. It's also incredibly beneficial to analyze the target audiences of your competitors. 
Based on the demographic and psychographic data of your audience, you'll be able to create a  website that caters to their needs. The data will also help you determine the appearance and tone of your website — e.g., whether to use trendy or classy designs, speak in casual or formal language, etc.
Have a General Plan for Design and Content
At this point, you already have a clearer picture of why you're creating a website, and who you're creating it for, and can therefore deduce the best way to create it. Putting all the information you have together, you can form a general outline for your site.
Inspect various websites to draw inspiration from — whether it's the sites of direct competitors or other businesses with a strong web presence. Carefully study the websites that have accomplished what you're trying to execute, and use the inspiration to scheme a general outline for your own site.
Source: Search Engine Journal
Depending on the size and complexity of your website, the cost to design it can vary greatly. If you want to dig deeper into how much you should expect to pay for your website, be sure to check out our article on website design costs.
Find and Secure a Domain Name
Each website has its online address — i.e., domain name. While it sounds like a simple task to accomplish, picking a domain name requires careful forethought. You can either publish your website under a free domain that belongs to another business (e.g., yoursite.renderforest.com) or purchases your very own domain name to give more credibility to your site.
Since your domain name will be presenting your company online, it's best if it portrays your business name. Domain extensions (or top-level domains) are just as imperative to building solid domain names, but you don't necessarily have to go for a ".com" extension. You can find industry-specific domain extensions that can assist in properly presenting your business online in a saturated online world.
For example, if you have an online store, you can go for ".shop," ".trade," ".store," or other similar extensions. But if your company provides an e-learning platform, ".study," ".academy," and ".education" will be great options for you.
How to Choose a Good Domain Name?
Not sure how to choose a good domain name for your business? Here are some tips to help you make a thoughtful decision.
Choose something simple:

A complicated URL will be hard to type and remember, so make sure to keep yours as simple as you possibly can. Adding unnecessary words and numbers will only confuse the user.

Make sure it represents you:

Use the right keywords to accurately show who you are, and what you offer, and make it easy for your customers to find you online. 

Catch attention:

If possible, try to go for a name that catches the eye and is memorable.

Use location: If your business operates locally, include geo-location elements in your domain name to connect to local customers.
And lastly, once you do find a suitable domain name or even a few variations, register it as soon as you can. Domain names are being snatched left and right, so make sure you secure yours before another business takes it.
Where to Register Your Domain Name?
Now that you have your domain name, you should first check domain name availability and if so, register it through an accredited domain registrar. If the domain you came up with is already taken by another company, you can get in touch with them to see if they're willing to sell it to you. Otherwise, you'll need to find a new name to avoid infringing on others' rights.
Have a unique domain name? Great! Register it via Domain.com, Name.com, Google Domains, Namecheap, GoDaddy, or web hosting providers. To retain the rights to the domain, you'll need to pay a yearly fee of $2 to $20, depending on the top-level domain and registrar you choose.
Source: Google Domains
Keep in mind that if you're creating your site with a website builder, the domain name will most likely be included in your subscription plan. In this case, you don't have to take the extra step of buying the domain yourself. 
Along with the domain name you purchase, you'll also be able to get a professional business email address with your website's name. Do take advantage of this to ensure your business email account is more professional.
Choose a Web Hosting Company
The next step toward laying down the fundamentals of your site is finding a web hosting company and a platform with which to build your site. You have two options for creating a website: using a website-building tool to create on your own or hiring a professional to do it for you. 
But before you start building, you need to take care of website hosting, so let's start uncovering your web hosting options.
Web Hosting
Every website is hosted on a server that stores the web data — like code, content, multimedia — and makes it accessible for viewing and managing. The heavier your website is, the more storage you'll need to host your site.
Reliable web hosting services are critical to ensure your site runs smoothly and securely, so you need to be careful with the hosting provider you choose. Double-check that your plan includes enough storage space, security against viruses and malware, and top-notch 24/7 support to quickly resolve any issues that might come up regardless of the time of the day. Some web hosting providers also include a free domain name in their plans.
Some of the best web hosting service providers are Bluehost, Hostgator, Dreamhost, Domain.com, and Cloudways. You can also find industry-specific domain extensions using domain finders that can assist in properly presenting your business online in a saturated online world
Source: Bluehost
If you're working with a website builder, check to see if web hosting services are included in your package to avoid paying for it twice.
Now, let's see how you can build your own website.
Build Your Own Site
If you want to take matters into your own hands and build your own site, you can get a lot of help with specialized platforms that make it easy to create a site from scratch without any coding or technical skills. 
The two main options you have to create your site by yourself are website builders and content management systems. Let's get into the pros and cons of each to see what's right for you.
Website Builder
Using a website builder is the quickest, easiest way of making your site without having to pay large fees to hire a web development team. The appeal of website builders is their intuitiveness, as they're designed to be beginner-friendly and don't typically require a learning curve. 
Website builders come with ready-made website templates that have customizable elements you can modify to adjust the design to your needs. You can alter the content, images, videos, color palettes, fonts, rearrange the components and pages, and you'll have your site ready in a matter of minutes.
These platforms usually provide tools for SEO and social media integration, web hosting services, Google Analytics integration, user-friendly interface for mobile devices, high-quality design templates to make a professional-looking website.
Website builder pros:
No special skills required

No learning curve or software installation

Quick and inexpensive to create
Website builder cons:
Less flexibility

Limited to templates

Fewer options for integrating features
Content Management Systems
A content management system (CMS) like WordPress will allow for more flexibility to control the creation process as well as the final outcome of the website. WordPress gives you access to thousands of added features and plugins you can install on your website.
Working with a CMS, however, is more complicated and will require some technical knowledge. If a website builder is better suited for small business websites, WordPress will be more useful for online store websites that need e-commerce integrations.
Source: WordPress
Content management system pros:
More adaptability

Thousands of plugins available

Flexible themes
Content management system cons:
Takes more time to create

A bit of a learning curve

No customer support
Hire a Professional
For businesses that have less time and more funds to dedicate to website building, working with a professional web developer and designer is a viable solution. Getting professional help will ensure you end up with a site that's up to date with the current design trends and has an intuitive user interface. 
You can either partner with an individual freelancer or a web design agency. In the case of the latter, you'll have a larger team of various professionals developing each aspect of your site — from web development to content creation and search engine optimization.
If you work with an individual, negotiate what elements of your website they'll be in charge of. In case they only handle web design, you might need additional people to create the content, graphics, etc.
Professional web designer pros:
Professional outcome

Custom-made website

More flexibility
Professional web designer cons:
Meticulous communication needed

More expensive 

No direct control
Craft the Content
Once you have chosen a medium to create your website, you can start sculpting the skeleton — the structure, design, and content of your site. The way you choose to build and present your website will determine whether a user stays on your site or clicks away. 
With that in mind, let's explore the primary elements that comprise a website and, ultimately, define its success.
Main Pages
Web pages are the bare bones of your website, so it's vital that you position them right to make a functional skeleton. A standard business website will include the following core web pages:
Home page

— as your main introductory page, your home page will be responsible for shaping the first impression of your site;

About page — the best place to present your business and share your brand story with customers is your About Us page;
Products or services page — present your offerings in an appealing light with well-crafted copy, high-quality images, and accurate descriptions;
Contact page

— this will be your ultimate CTA to propel visitors to establish direct contact with you;

Blog page (optional)

— a blog is an excellent way to provide value to your web visitors and warm them up to your brand.
Organize the sequence of the pages well to create a smooth, logical flow for those you visit your site. Logical website architecture and convenient website navigation are essential to give your guests a trouble-free experience which will, in turn, encourage them to spend more time on your site.
Written Content
Whether you produce your own web content or outsource it, you'll need to give it careful thought to make sure it aligns with your brand identity. The data you have about your audience will again come in handy in this process. Look at who your audience is, what topics they prefer, and what tone of voice best resonates with them. 
If you're planning to outsource the content development of your website, provide sufficient information about your brand backstory and mission, and be clear about the tone of voice you want to nail down with your content.
Visual Content
The visuals of your website should tie beautifully with the rest of the content and elevate it in all the right ways. All the visual elements on your website, including images, videos, illustrations, icons, CTA buttons, have to be cohesive to give a harmonious look to your page. You can use stock images, hire a designer to create custom graphics, or use customizable graphic templates and mockups to save time and money.
Online Store Features
If you operate an online store or intend to handle financial transactions through your website, you'll need to integrate e-commerce tools. Depending on the type of your website, you might need a reliable payment system, shopping cart, order-tracking tools, etc. It's recommended that you get an SSL certificate to ensure the security of your and your user's data. 
Also, don't forget to include clear guidelines for terms and conditions if you intend to sell on your website. Provide accurate shipping information, explain the refund policy, inform about taxes and other fees, and be transparent about your policies.
Optimize for Search Engines
Now that you've walked through all the steps to create a great website, you have one more step left to ensure your hard work pays off — SEO. Search engine optimization (SEO) is key to getting your site in front of the right audience and securing good rankings on major search engines. 
The essence of SEO is making strategized tweaks and adjustments to appeal to search engines like Google or Bing, thus earning a spot in top results when a user searches for a specific keyword. The importance of ranking high on results pages becomes apparent when you consider that 92% of searchers pick a business on the first page of search results.
You don't need to become an SEO expert overnight, but learning the basics of SEO will help you improve your site rankings and attract more website traffic. Here are the SEO fundamentals to help you get started with boosting your page. 
Web content

— Search engines are getting smarter as they progress and can easily differentiate between low and high-quality content. Have relevant content on your site, try to be clear and accurate in the way you describe things, and provide up-to-date information. Ignoring these points will lead to losing your authority in the eyes of customers and search engines.
Keywords

— Using appropriate words and phrases throughout your content will help your site get found quicker when users are looking for similar keywords. Only pick terms that are related to your business and accurately reveal your provided services. Stay away from keyword stuffing, as it'll look unnatural and will only hurt your site authority.
Meta tags

— Meta tags are short pieces of text that tell search engines what your page is about. These tags typically include your page's meta title, keywords, and description. Even though meta tags appear in your site's source code instead of the web page itself, they're still important to help search engines understand and properly index your website.
Link building — Links are another factor affecting the rankings of your website. Both backlinks (links from other websites to yours) and internal links help to put your site's content in perspective and connect to similar high-quality content. 
Image optimization

— You can also get ranked on search engines through the images you use, so it's best to ensure they're optimized as well. Image optimization starts with the file name: descriptive and concise names tend to be most effective. Also, write ALT texts for your web images following the same principle. 
Sitemap

— A

sitemap

outlines the architecture of your website, making it easier for search engines to crawl your site. It's especially useful for websites that are either new or quite large and media-heavy. 
Mobile-friendliness

— Google prioritizes mobile versions of websites over desktop when ranking web pages. It's always worth going the extra mile to make your site fully compatible with mobile devices, as it'll certainly impact the usability and rankings of your site.
How to Promote Your Website
Your website is all set up, but now what? The next step after creating any great product is to find effective ways to promote it. Below, we'll discuss a few of the most widespread marketing strategies to promote your site to your desired audience.
If you run a small online store or any other business that's strongly reliant on its local community, local SEO is a must for you. Its superpower is to connect your brand to users from a particular geographic area.
To make the best of Google's local search algorithm, you should create a Google My Business account and regularly update it with fresh information, photos, and reviews to show you're actively engaged and open for business.
Source: Google My Business
Email still hasn't lost its touch when it comes to fostering relationships, raising customer loyalty, and keeping clients informed about recent updates. Email is a great way to promote blog posts to subscribers, tell them about a new feature you have on your website, share your products, offer discounts, and, ultimately, keep people returning to your website. 
Consumers spend the majority of their online time on social media. Discovering or getting to know businesses better is one of the myriad activities users like to engage in on social networks. Social media marketing can give a significant boost to your business in a number of ways, and promoting your website is definitely one of them. 
Have your website listed on your profile pages and in social media bios to draw your followers' attention. Periodically publish posts with useful links to your website to direct your social media traffic toward your site. Social media is an excellent promoter, so use it right.
With paid search advertising, you can display your ads on search engine results pages when a user searches for a similar keyword. It's a fail-safe way to push your website up the results page, especially if it's still brand-new and doesn't yet rank very high. 
You have two main options for paid advertising: PPC (pay-per-click) and CPM (cost per thousand). With PPC ads, you only pay when a searcher clicks on your ad, while CPM charges you when the ad receives one thousand views. You can experiment with your campaigns to see which option fits you better.
To Wrap Up
Creating your own website and setting it up for success is a venture that demands skill, practice, patience, and a lot of knowledge. With this detailed guide by your side, it'll hopefully be easier for you to navigate this process. Keep in mind that the enormous benefits a good website can bring to your business will be worth the effort. 
If you want to create a website with minimal time, money, and effort, customizable website templates are the way to go! Click the button below to find dozens of stunning templates: