The power of Instagram videos is limitless. They can help you improve your page engagement, successfully promote your service or products, grow your social media presence, to name a few.
According to statistics, video posts on Instagram get 38% more engagement than photos, which means you need to use video content if you want your Instagram page to grow.
But how to make Instagram videos that can set you apart from the sea of 100+ million posts shared on this platform each day?
Here are 9 easy tips to make killer Instagram videos, that will impress your followers and boost your Instagram page.
Without further delay, let's dive right in! 
Produce High-Quality Video Content
Choose the Perfect Thumbnail
Keep Your Videos Short
Add Captions
Use the Right Dimensions
Create Unique Video Content
Add Dynamic Music
Use Video Editing Tools
Cross-Promote Your Instagram Videos
Produce High-Quality Video Content
People on social media, and especially on Instagram, enjoy high-quality video content. This means that to have an effective video on Instagram you have to give your audience something they can like and share proudly. 
You don't have to get a professional camera if you don't have the budget or borrow it from a friend if you don't want to. Your smartphone with a good camera setting can help you out just fine. 
Yet, there are some basics you need to pay attention to if you want to shoot a high-quality Instagram video:
First of all, avoid having the "burning" effect in your videos. To do so, make sure the light is in front of you or falling on the object you are taking a video of, and not pointing at the camera.
If the shooting is taking place outdoors, then pay attention to the time of the day you're shooting the video. The best time of the day for outdoor shooting is the golden hour: one hour before sunset or one hour after sunrise. However, other times in the morning and early evening should be fine too.
Keep your shots steady and fixed. Unless you're aiming for a chaotic roller coaster experience, your audience wants to see comprehensible scenes. 
To avoid shaky shots without using a stabilizer or a tripod, you can rest your elbows on a flat surface, or lean your camera into a fixed object, and secure it.
You can also hold the camera or your phone with both hands, and pull the device against your chest slightly, locking your elbows in.
Both the steady scenes and the lighting will do an amazing job at making your video content look as great as professional footage. 
Another helpful feature on your phone camera or another device for Instagram videos is the grid feature. 
With this genius technique turned on, you can see your camera divided into nine equal sectors by two horizontal and two vertical lines. 
What you need to do is to shoot your video object on the part of the camera screen, where two of the four points intersect. Those anchor points are where the eye unintentionally concentrates when you watch a video or look at a photo. 
This is a brilliant way to draw attention toward a certain object when you're shooting a product demo or a portrait video. 
You can turn the grid feature on your camera by going to the "Settings" of your phone and looking for this feature in the "Camera" section. 
Recommended Reading
---
---
Choose the Perfect Thumbnail
We all love scrolling through our Instagram feed mindlessly, and sometimes, there are things that make us stop scrolling in a blink of an eye and concentrate. One of those things is the first second of a video, that is, the perfect thumbnail. 
Now, when you upload a video on Instagram, it allows you to choose a scene from your video as its cover. You can find a great shot in your video and make it your cover. 
But, sometimes the scenes you choose can look out of focus when taken separately.
You can avoid this by making a cover with the help of online graphic maker tools or offline software. Then add it at the beginning of your Instagram video with the help of offline or online video editors.
You can then upload your video to Instagram and choose the photo scene as the cover photo of your video. 
Good quality visuals with some color, glam, and relatable text will encourage your followers to stop and stare.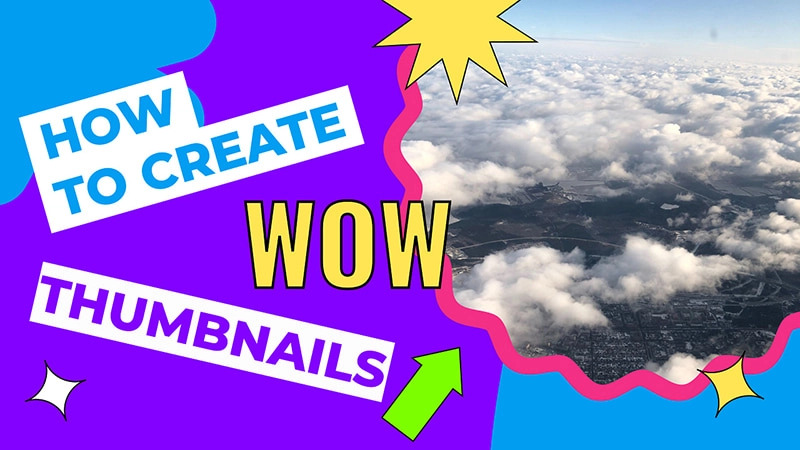 Besides grabbing immediate attention with a superb cover for your video, you also need your followers to stay and watch more of what you're showing. 
This means, you have to keep them interested for at least 3-5 seconds, so the first seconds of your video – the opening, is the next "first" you have to consider. 
Make it beautiful, make it relatable, make it informative. 
Keep Your Videos Short
Keep your Instagram video as short as possible, because people on this platform don't particularly enjoy spending their time on one thing. 
Instagram knows it too, and that's why they have the following video lengths for each feature:
Instagram Stories can't be longer than 15 seconds,

Reels can't be longer than 30 seconds,

Video posts on your

Instagram feed

can't be longer than one minute.
You need to keep this in mind when shooting a video for this platform, so you take the shots that you need most to make your video complete. 
But sure, if you want to post a longer video, you can share it on your IGTV or Instagram Live. 
Videos on your feed play with a loop, that is they start automatically once they're over.  It means you need to state the beginning and the end of your video. You can do it using music at the intro and outro, or with a fade-out scene at the end.
Add Captions
It's not a rare thing for people to watch Instagram videos without turning the sound on.
Sometimes, the circumstances we find ourselves in or the places we are stuck at, aren't really perfect. So, we keep scrolling our feed, and watch muted videos or just skip videos as fast as possible.
This is one of the reasons we love to see videos with captions on our feed. It gets people's attention faster and even without the sound, sends your message across. This might interest people enough to make them want to turn the sound on and watch the video again.
Remember to keep the captions short, since too much text can have the complete opposite effect.
Still, you can come up with dynamic text effects, if it's suitable for the content and your page, or add some text stickers here and there. 
Use the Right Dimensions
Pretend you've ordered a shoe online, it finally arrives, and it's not even half of your foot size. This means the wait was for nothing, and the shoe is not even that pretty anymore. Wouldn't you be disappointed? 
Almost the same thing happens on Instagram. When you post a video with the wrong dimension for this platform, it looks cropped or stretched.
You don't want your followers to be disappointed and leave a bad, unprofessional impression. You want them to like your video and wait for your next video content. 
Depending on where you're posting it – your Instagram feed, Stories, Instagram Reels, or IGTV, your video dimensions will be different. 
Here are the best options for each, that you can go for:
Most influencers and business pages prefer posting videos in portrait format. This makes your video stand out on the Instagram feed due to its size and helps people notice it faster. 
Keep in mind that unlike Facebook or Twitter you can't enlarge the Instagram video post with a click. What you see on your timeline is what you get. 
The videos posted on Instagram Reels or IGTV are another story. They can fill up the whole screen of your phone for a better experience. 

Create Unique Video Content
What sets you apart, makes you great most of the time. Come up with an amazing tactic to stand out with unique and aesthetic content in the sea of Instagram videos. Define your target audience, put yourself in their shoes and think of what you'd love to see on your page as a follower. 
You can get inspired by the current trends as well, and create video content according to the trend waves. 
Here are some of the video trends people enjoy on Instagram: 
Time-lapse Videos: With this type of video you can show a long process, a scene in which there is a constant movement. It's an original way to show your followers a project from beginning to end.
The shooting process of time-lapse videos is longer than the usual amount of time you spend recording a normal video. The final result of your hard work, however, is definitely worth it.
If you're shooting the video on a camera, you might need a tripod or have it fixed one way or another. This will help you have a clear and steady video. 
You can shoot a time-lapse video on your iPhone as well, directly in the "Camera" function on your phone. It's actually very convenient and easy to use. 
And if you're an Android user, you might like to download some relevant apps like Lapse It. 
Make sure your phone is in airplane mode and charged, to not stress over unnecessary interruptions. 
Hyperlapse Videos: If you're looking for more dynamic and driven Instagram video content, then hyperlapse videos are what you need. 
Hyperlapse videos have a touch of cinematic vibe. They'll make your Instagram followers feel like they're moving toward, around, or away from a spot or an object.
Unlike time-lapse videos, when shooting hyperlapse videos, your camera is the one moving.
Most of the new phone models have the hyperlapse option, but if your phone doesn't have it, you can find free hyperlapse apps that will help you create amazing videos.
Add Dynamic Music
Music makes everything better, especially our life and an Instagram video. It can help you create a mood or communicate an emotion that you need your users to feel while watching your video.   
There are many offline software and online video makers you can use to add music to your video fast and effectively.
If you're using a smartphone, you can try applications like Lomotif, Inshot, and many more.
Use Video Editing Tools
Constantly work and improve your video content with the help of offline and online video editing tools.
It's a brilliant way to customize your videos, as well as create gorgeous Instagram videos that describe the style of your Instagram page or brand with just a glance. You can do this with the help of video filters, frames, stickers, video collages, and other amazing additions. 
Experiment with high-quality video editing apps that have all the aesthetics to inspire creativity in you. VSCO, Snow, Final Cut Pro, and Prequel are just a few of those apps.
Cross-Promote Your Instagram Videos
Now that your videos are uploaded, it's time to cross-promote them on your account. For instance, if you've posted a video on your Instagram feed, you can boost it in your story. 
If you've done an Instagram Live, you can make it an IGTV post and keep it on your page forever. You can also add a preview of it on your feed. 
And for your longer IGTV posts, you can share its teaser video on your feed too, as well as post it on your Instagram Stories. 
Share your Instagram video on every available feature on this platform, and follow your Instagram analytics to see how much it actually boosts your engagement rate. 
Summing Up 
So, these were the 9 tips, we believe will make your next Instagram video become a hit and create a better social media presence for you. You can create an awesome Instagram video without spending money and all of your time on it. Make sure to edit your videos the best way possible as well, to make them look more professional and eye-catching.