The music industry is ever-changing, and it is especially true in this digital age. It wasn't too long ago that major record labels would sign the artists and then handle their music marketing strategies and digital marketing activities in general. 
But this is no longer the case. The growing number of independent musicians marks the rise of independent music promotion.
Independent musicians are a fast-growing segment in the music business. To become one and get noticed, having an effective marketing strategy is a must. You need to plan everything from making music and creating a music video, to your album launch and music marketing tactics.
Keep in mind that the world of digital music marketing changes fast. It's crucial to always keep your hand on the pulse of current marketing trends.
With all of this said, let's take a look at these 15 music marketing strategies. They will help you promote your music and deliver results with a limited budget.
How to Get Started?
15 Music Marketing Strategies
How to Get Started?
Music is your product, and as a creator, your goal is to sell your product. Of course, there is no damage in hoping that one day, big record labels will discover you and help to get your music to the top. After all, that's what happened to Ed Sheeran. He was busking on the streets of LA, trying to join all the open mics he could find until he was discovered by Jamie Foxx. Now, his net worth is $64 million.
However, relying only on that possibility would be naive at best. Today, the music industry is extremely competitive and saturated. With the rise of social platforms and opportunities to get noticed, more and more artists and musicians try to get out there and share their art with the world.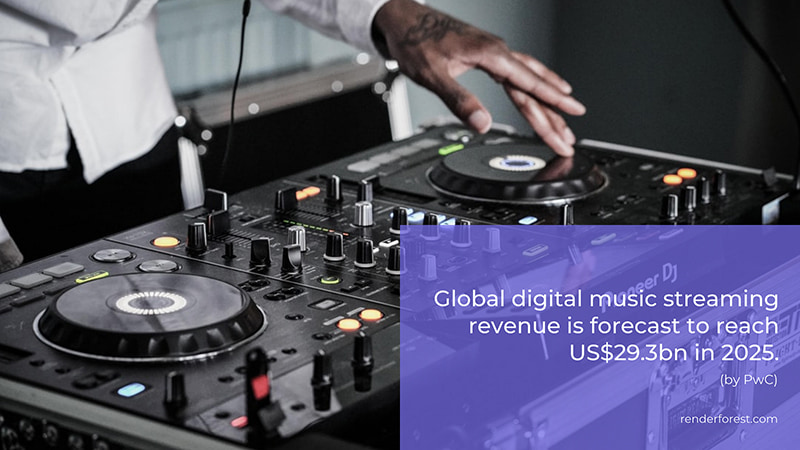 To get noticed in the market, you need to create a marketing plan — a report that outlines your music marketing strategy for a period of time. If you are new to the world of marketing, this may seem a little overwhelming. However, once you start,  you'll get a grip on what to do and how to do it quickly. 
Here is how to start:
Your audience is the group of people that will potentially enjoy your music — your music fans. Depending on the genre of music you are creating, you will have to define a specific target audience to aim for.
In this case, the market is the music industry. Identify your "competitors" and what makes you different from them. This will be your unique selling proposition. Studying the market will also come in handy when making your music marketing plan.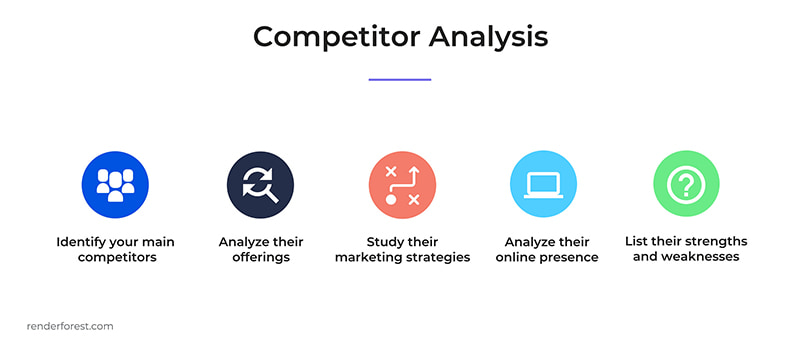 Establish Your Long-Term and Short-Term Goals
Are you planning to release new music, music videos, or an album by a certain date? Write an action plan to make sure you're prepared for your new releases. Specify your short-term and long-term goals in terms of music and tours.
Determine Your Marketing Strategies
Once you know your goals, you need to select marketing strategies that will help you reach them. Explore the 15 effective music marketing strategies below and pick the ones that will take your music marketing efforts to the next level.
Set a Budget for Your Music Promotion
After you determine your marketing strategies, you need to set your marketing budget. How much money are you willing to contribute to promoting your music?
Try to complete these key action steps one by one before starting the promotion. You can't successfully promote your music without creating a marketing plan.
Recommended Reading
---
---
15 Music Marketing Strategies
Here are 15 effective marketing strategies that have been successfully employed by many influential musicians and continue to be effective to this day. Let's start uncovering them!
Create a Music Website
Although social media and streaming services may make you think you don't need a website, don't give in to this thought. Your website is an integral part of your brand as a musician. It's your online portfolio, where you present and sell your albums, show the dates of your events, connect to your audience, and just tell your story.
And the good news is, building a website doesn't have to be expensive or time-consuming. Go with website builders with ready-made templates designed by professionals to save you time and money.
Consider going for a one-page website as it's more effective when it comes to narrowing the focus of the audience on one thing, in this case, your music. Ensure your website navigation is simple and intuitive so visitors don't have to click around to find the information they need.
Once your website is ready, you can actively share it with your audience and potential fans.
Share Your Music on Digital Platforms
With the rise of digital technologies, it's become easier to reach your target audience. Music streaming platforms are a great example. Some of the most popular ones are Tidal, Apple Music, SoundCloud, Spotify, Deezer, YouTube Music, and Amazon Music Unlimited.
These platforms make it easy to upload albums, share songs, and connect to listeners.
Choose wisely which platform to use. First, think about your target audience, which you've hopefully already defined in your marketing plan. What platforms do they use?
For example, Soundcloud is great for electronic music and remixes. So if you produce music in this genre, make sure you are on Soundcloud.
Don't limit yourself to one platform. The more platforms you are on, the more exposure you will get. But, if you know how to get noticed on those platforms.
On Spotify, you can have your track featured on different playlists by finding independent or unofficial Spotify curators. Or, if you want to get on Apple Music, you need to find an aggregator or a music distributor. 
Research the capabilities and features of each platform, the difference between them, and if you are content with them, go ahead and share your music. 
Use Social Media for Music Promotion
With 49% of the world's population on social networks, it seems unnecessary to say that using social media is one of the most prominent music marketing strategies. It can help you promote your music to potential fans, boost your fan engagement, and maybe make your upcoming track go viral! 
But how to create a viral video for social media? People love inspiring and fun content, which they also eagerly share. They especially like video content, which, in your case, is advantageous. A well-made video with your track can attract a lot of attention from users.
Social channels can help to build a community of loyal fans. Develop your social profiles, post unique content, and interact with your audience regularly. You can also share your work in social media music groups to connect to new people.
Again, you need to consider which social media platforms your target audience is active on. Then, create your strategy and decide what type of content you want to share. Learn about Facebook video marketing, promoting on TikTok, and Instagram videos. In time, you'll see your community grow if you utilize the best social media strategies for your music promotion.
Contact Social Media Influencers
Influencer marketing is a new but rapidly growing branch of marketing that is yet to unfold its true potential.
Who is an influencer? An influencer is someone who has a massive number of followers on different social media platforms. They can be bloggers, vloggers, public figures, or famous YouTubers.
What you need to do is find relevant influencers in your niche and contact them for collaboration. Trying to get the attention of influencers can be hard at first. Start with smaller influencers and gradually move to larger ones as your following grows.
Source: Time Magazine
There are multiple ways to work with influencers. They can use your song as background music for their videos or start a new dance challenge with your track and give you credit. This can be of significant help to you, especially if you're just starting to build your audience. You will get access to their viewers and market your music more authentically.
Send an Email Newsletter to Your Contact List
One of the advantages of having a music website is that you can collect the contacts of your audience. So, if you have subscribers who are willing to stay in contact with you through email, then you should plan your email marketing campaign. Send out email newsletters and keep your audience updated.
When you have your contact list, you can connect with your contacts when you release a new song or an album, notify them about your next live show, or send out the upcoming tour dates. You can share not only news but also tracks, images, and videos through email.
You can use graphic design templates to create attractive visuals for your newsletters to announce tour or release dates and other exciting news.

Promote Your Music via Paid Advertising
Struggling with organic traffic? You are not alone. In recent years, posts saw a rapid decline in organic reach. To boost your music marketing efforts and have more reach, consider using paid ads. Some of the best tools for your ad campaigns are Google Ads, Facebook Business Manager, and YouTube Ads.
Source: Google Ads
Sign up to Live Streaming Platforms
Go live! Nowadays, you have an opportunity to share live videos right from your garage or bedroom. Build an active fan base by interacting with your listeners in real-time. Discuss what your audience would like to hear from you and perform live concerts from time to time. 
There are many ways to go live — you can try Facebook, Instagram, or Youtube Live.
And if social media platforms don't work for you, there is a large selection of other live streaming platforms like Concert Window, Twitch, YouNow, StageIt, etc.
Live streams are a great way to boost your music marketing efforts and build a strong connection with your audience.

Record Music Podcasts
Podcasts are another way of effectively promoting yourself online. With podcasts, you have two options: start your own podcast or get featured in someone else's show.
SoundCloud is one of the most suitable streaming services for hosting podcasts. Record your episodes, upload them to your feed, and share your podcasts on the social platforms where you have a large following. You can also embed your podcasts on your website.
Source: SoundCloud Playbook
Make sure you get feedback from your audience to find out what your listeners are interested in more. It might be live concerts, the behind-the-scenes of your songwriting or recording process, etc. Choose topics based on their suggestions and interests, because if you don't catch their attention, they won't stay with you long.
Optimize Your Presence on YouTube
When we think about video-sharing platforms, YouTube immediately comes to our minds. It's considered the second largest search engine after Google. If you still haven't, create a YouTube channel for your music and optimize it for better results.
What kind of videos should you share on your YouTube channel? There are countless fantastic YouTube video ideas that you can use as a musician, including music covers, lyric videos, singing lessons, etc. 
Also, don't forget about music visualizations as they allow you to post your songs along with engaging visuals to provide a better listening experience to your audience. Adding a custom-made thumbnail, and organizing your music videos in playlists can further assist in creating an engaging channel that consistently brings viewers and new fans.
Create Your Merchandise
Do you need additional income to finance your recordings and shows? Having your own merchandise can be a great way to achieve it. First of all, you need to get an LLC as a music artist. Then create a unique brand that feels authentic to you. Creating a music logo is a great place to start if you don't have one already.
What kind of merch do you want to offer? Choose between physical and digital ones. This may include signed albums and posters, stickers, vinyl versions of your album, phone cases, music lessons videos, online lyric books, t-shirts, and notebooks.
Before creating your music merch, consider what products your fans would love to buy — whether physical or digital. Research other musician merchandise to see what sells best and estimate the budget you are ready to dedicate to it. Showcase your products with professional mockups to make them look appealing to your audience.
Reach Out to Music Bloggers
Reaching out to music bloggers will help you create buzz around your new song or album release. Many people look for new music from different music blogs. To get access to that audience, contact bloggers you'd like to work with and try to get featured in their blog posts.
You need to have a strategy for your outreach. First, find all the relevant music blogs and bloggers. This might take some time, but you can find many top music blog lists online to save you some time.
Source: Detailed.com
Once you find relevant bloggers, try to build relationships with them. This is the most important part. You need to prepare a stellar pitch for your music. Include some basic information about your work, the genre, what makes it unique, and send your music video, if available. Offer music bloggers your music, branding, and story to highlight your uniqueness.
Find Musicians to Collaborate With
Musicians have used this strategy for a very long time. Among the most famous music collabs are "Walk This Way" by Run-D.M.C. and Aerosmith, "While My Guitar Gently Weeps" by The Beatles and Eric Clapton, "My Universe" by BTS and Coldplay, and many more.
While your collaborations don't have to be this grand for now, they still can yield amazing results. When it comes to partnership, you can collaborate with other bands and artists that are currently on the same level as you.
Getting in touch with producers on the same level would be easier, especially when you are just building your audience. However, contacting more prominent artists will be a lot more effective in boosting your career. 
Another option is to collaborate with DJs. They can create a remix version of your music and share it with their audience. In any case, this is a proven strategy that helped many musicians stand out from the crowd. So try to build relationships with other musicians to grow your fan base.
Record Music Tutorials
As a professional musician, recording tutorial videos can help you become a valuable source of knowledge for amateurs. This can be a good starting point to boost your career. The more value and knowledge you share with your audience, the more eager they will be to support your music.
When it comes to sharing your tutorials, one of the best options is to put them on your website. You can create a separate section and upload your videos. Another great option is to share them on YouTube.
How to create a tutorial video? Easy, simply record your video and edit it with the help of an online video editor.
Once you start creating and uploading your tutorials to YouTube, organize them into playlists. This will not only help to keep your channel neat but will organize the tutorials by theme and genre. Playlists are also a great way to keep the audience watching, as thematic videos will play after one another.
List Your Shows and Tours on Different Platforms
These platforms help music lovers discover live concerts in their cities or keep them updated on their favorite artists. So, when you intend to have a live performance, sign up to a similar platform, and share your event with your potential fans.
With the help of these online music promotion platforms, you will effectively promote your offline events to new audiences. For example, you can link a QR code to a PDF with tour info that you share at events.

Source: AllEvents.in
Try Crowdfunding for Musicians
Crowdfunding is an excellent way for musicians to raise funds for their upcoming album, project, or music video. The collected budget solely depends on loyal fans and their willingness to support their favorite music artists. 
Luckily, there are plenty of high-end tools for successful crowdfunding campaigns. Some of them specialize in specific niches, and others can be effective for various goals. Some of the most known crowdfunding platforms are Kickstarter and Indiegogo. These two can be a great choice to find funding for your creative project.
Source: Indiegogo
In the case of crowdfunding, it's crucial to have an active community. So, before starting a campaign, you need to make sure that your efforts won't be in vain. You have to invest your time and even a small amount of money to promote your campaign.
If you think you need a crowdfunding campaign, you must consider all the advantages and disadvantages before creating it. You also need to be sure of the objective of that campaign and explain it to your audience in a persuasive way. Try different approaches and see which one brings better results.
Conclusion
It's true that the music industry is very competitive. But this doesn't mean that you cannot succeed. If you have a dream, are ready to put in the hard work into your craft, and willing to spend time on developing and implementing the right marketing strategy for your music, there is no reason why you cannot succeed and find your fair share of dedicated fans. 
If you are a talented musician and create good music, all you need is a little push to connect to fans who will appreciate your craft. Using the music marketing strategies mentioned above will help you do just that. What you need to do now is to create a marketing plan and choose the right marketing strategies to help your music reach the right people.
Want to create a stunning music logo to build your brand as an independent artist? Our online logo editor makes it easy. Find a suitable template and customize it in a few quick steps!