In the era of digital marketing, often, what you need to stand out from the crowd is not a bigger advertising budget but a more creative strategy. In fact, no amount of funds can make up for creativity, while creativity can make up for a tight budget.
Creativity is only half of the solution, though. Your ads won't be effective if the viewer forgets what the ad was promoting or which company it belonged to. Thus, you need to make sure that your advertising content is not only inventive but also relevant to your product/service.
If you're excited to discover creative advertising ideas to help you plan your advertising campaign, then keep on reading!
Challenges
Let's start our list on an exciting note — challenges. User-generated content (UGC) dominates social media. If you're not familiar with the term, essentially, it's content created by users and fans that promotes a certain brand.
The internet is full of creative challenges, propelled by brands. The viral #inmydenim campaign is one of the best examples of a branded challenge and one of the first ones too. Guess encouraged its customers to share TikTok videos in their denim outfits, and the next thing you know, denim content was all over the web!
Challenges are one of the best ways to get people talking about your brand. So pick one that makes sense for your niche and spread it across social networks using a relevant hashtag.
Contests
Another excellent way to bump up UGC is through contests. What separates the latter from challenges is the prize at the end. Contests would be a better pick if your business is still new and hasn't made a name for itself just yet. 
Draw in new clients by offering a prize or benefit that you know your target audience will love. You can do a photo contest, video contest, or something else entirely.
Videos
Video marketing statistics show that videos are the most consumed and shared type of content. The use cases of video are endless — from explainer videos to introduce your business to online ads to promote your products. 
Producing broadcast-quality videos is getting easier by the day. Renderforest has professional video templates for every need and taste ready to be customized with your content.
Quizzes
Quizzes are so popular for one reason — people love talking about themselves. Turn this knowledge into a creative advertising idea and publish branded quizzes. It can be a fun trivia quiz or one that's more specific to your niche. Either way, it's an efficient way to get people to interact with your brand. Maybe Buzzfeed's onto something!
Polls
Need something less time-consuming but equally as engaging? Polls are what you're looking for. They gravitate users' attention instantly and are supported by most social platforms. Not only will polls freshen up your social media content, but they'll also help to understand your audience better.
Humor is a Great Marketer
Recall some of your favorite ads of all time. We'd probably be right to guess that most, if not all of them, have an element of humor. Funny ads are the most popular form of creative advertising, and that's because they're effective. 
Check out our list of the funniest commercials to see excellent examples of humor applied in marketing.
Memes and Cultural References
Memes are the perfect way to humanize your brand and connect to your audience better. They're especially powerful if you're dealing with a younger audience. Millennials and Gen Z-ers tend to dislike overly promotional content. So charge up your ad campaigns with memes or cultural references to make them more appealing to your customers. 
Have a slightly older audience? Interject cultural references from their favorite movies or songs.
Branded Filters and Lenses
Snapchat has long been offering sponsored filters to help companies in their advertising efforts. While those filters can be quite costly, you can create custom Augmented reality filters on TikTok and Instagram to diversify your marketing plan with creative advertising ideas.
Recommended Reading
---
---
Trending Music
Trending songs will increase your video ad's discoverability. The downside is that you'll need a license to use copyrighted music. If you want a guide on how to get permission to use a song, check out our article.
Eye-Catching Graphics
Eye-catching visuals in the form of infographics, charts, posters, collages, and others are the quickest way to catch the viewer's attention. Besides, visuals help people better grasp the information they're presented with. 
Make your message more attractive with graphic designs, and don't forget to spread the visuals across all social platforms, especially Pinterest.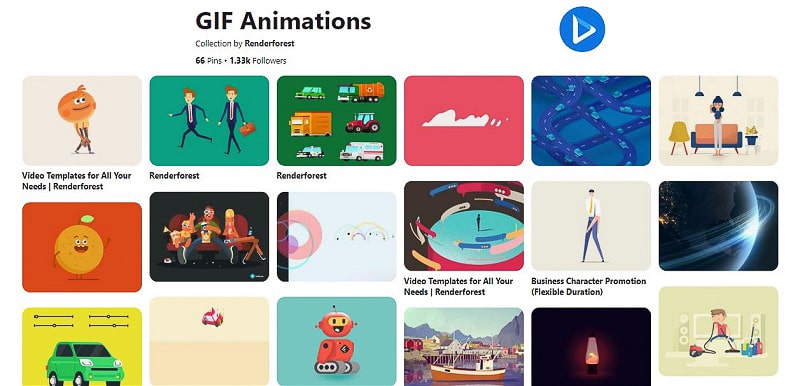 Presentations
Presentations are another great form of visual content. Pick a topic that's closely related to your niche and can benefit your audience, and answer it with your presentation. You can either give an offline presentation or publish the slides on Slideshare to gain more exposure.
Facts and Statistics
You don't necessarily need slideshow presentations to share helpful information with your followers. Regularly post interesting facts, statistics, case studies, industry news, and anything else your customers might find interesting.
Your social profiles will grow as people find real value in what you publish. And once they start sharing your posts, you'll get access to a broader audience.
Online Business Directories
Make sure your business is listed on both local and global review sites and directories. Most people look for a business online before visiting it. So, platforms like Google My Business, Yelp, Facebook, Yahoo! Local, and many others are essential in making your company quick to discover. Find more business review sites here.
Source: Google Maps
Strong Social Presence
Your presence on social media cannot be overlooked. By far, the quickest and most direct way to interact with your clients is through social networks. Solely opening an Instagram account won't be enough; your channels will need regular posts and updates.
Recommended Reading
---
---
YouTube Channel
If you have a knack for shooting and editing videos, try your hand at YouTube. It might take time to gain a following on the platform, but if you emphasize providing value and stay consistent, your efforts will pay off. Today, video content is more popular than ever. Use it smartly.
Explore our lists of tutorial video ideas and first YouTube video ideas to get video inspiration for your channel.
Website
No matter how active you are on social networks, your online advertising efforts will be groundless without an effective website. After all, once a consumer hears about your business, they'll want to learn more about you. A website will not only provide them with the information they seek but will present you as a credible, competent organization.
You don't need tech skills or an expert to create a website. Pre-designed website templates allow you to build your site in a matter of minutes. 
Blog
Having a blog is not as necessary as a functioning website, but it's still a proven way to generate organic traffic and establish an authority in your industry. Study your competitors' blogs, identify what type of content your audience will be interested in, and share your expertise through regular blog posts. 
Optimize your content for Google to rank higher in search results and direct more users to your website.
Pop-Ups
Pop-ops are push notifications that appear on a website to show the visitor a specific message. Some love them; some hate them, but the right pop-up and the right time can be a persuasive call to action. There are various pop-up types, so choose the right one and make it creative with catchy visuals and text.
Paid Search
With paid search, you can show your ads on search engine results pages. Paid search operates on a pay-per-click basis, so you won't be charged unless a visitor clicks on your link. This is a worthwhile marketing idea if you're trying to increase the discoverability of your small business.
Live Broadcast
Live streams tend to get a lot of attention, as people naturally gravitate toward live events. Whether you're giving a speech, hosting an event, or just want to show your viewers around your office, a live broadcast on the social platform with your largest following is a smart idea.
Webinar
Another form of live streaming is a webinar. Choose a topic that's either highly debated or raises a lot of questions, and share your take on it. You can invite a guest or do a Q&A session at the end to make your webinar more interactive.
Podcast
Podcasts have quickly become the internet's favorite. They're entertaining, educational, and much easier to digest compared to other forms of content. Share industry insights, collaborate with influential people in your field and grow your audience organically. There are endless creative ways to turn podcasts into marketing ideas.
Offline Event
In recent years, online marketing has taken precedence over offline marketing, but it doesn't mean you should neglect the latter. One of the best offline marketing ideas is hosting or taking part in events, meetups, seminars, workshops, interviews, etc.
Company Merch
You don't have to be a YouTuber with a huge subscriber base to release your merch. Print your logo or any other creative design on T-shirts and hoodies and encourage your employees to wear them at special events. You can even hand out your merch to event attendees to further spread the word about your business.
Business Card
Business cards are a traditional marketing tool: everyone knows that. But what not everyone realizes is that you can get creative with business cards. Give your card a unique shape or a creative design to let your brand's unique personality shine through. 
If you want to see how your envisioned design will look on a real business card, try mockups. Select a layout and attach your image to get its realistic preview on a card.
Flyers
Just like business cards, flyers are another useful tool to spread brand awareness. Include your contact details, website, and social handles, so people have no difficulty finding and contacting your business. Make sure the design of your flyers is coherent with that of your company's business card and other visual assets.
Active Comment Section
Due to Instagram's algorithm change, posts on the platform are no longer ranked according to the date but the volume of engagement they receive. The more likes and comments your posts get, the further up they'll appear on users' feeds. There are creative ways to get more comments on your posts — ask your audience questions, do a caption contest, encourage them to tag their friends, and so on
Witty Replies
Try to get back to comments and posts where your business has been mentioned as best you can. And always remember — replies are good; witty replies are better! Obviously, this doesn't apply to all cases: if your user has run into a serious issue, they expect a genuine answer from you. 
But when appropriate, use humor in your interactions with customers. This will make your brand seem more approachable and likable.
Email Marketing
When it comes to developing relationships with customers and nurturing those relationships, email marketing is your best friend. You can start building your email list by adding an opt-in to your website, asking event attendees for their emails, offering users a benefit in exchange for their email addresses, etc.
Forums
Use websites like Reddit and Quora to your advantage by actively answering questions regarding your business field. You're guaranteed to find a community for any niche on those platforms. Find people that have a problem your business can solve and help them with thoughtful answers and useful information. In return, you'll get increased brand awareness and more outreach.
Freebies
We all love free stuff! Prepare a few things you can give out to your loyal customers, contest winners, or event guests — it can be your merch, an ebook, online course, extra content, a free trial of your service, or anything else.
Guerrilla Marketing
Guerilla marketing is all about creative advertising and inventiveness. Its aim is to use the element of surprise to convey a brand message or promote a product in a clever, unexpected way. Guerilla marketing can be carried out both outdoors and digitally. 
One of the best experts in outdoor guerrilla marketing is McDonald's. Check out some examples below:
Coupons and Promo Codes
Make holidays and special occasions even more special with coupons and promo codes. You can add scannable codes to your products and fliers that allow consumers to easily access the offers.
Testimonials
82% of buyers check online reviews for businesses, so it's not hard to see why positive feedback and testimonials from returning customers are a brand's biggest reward. Ask your loyal clients for testimonials and share those on multiple outlets like your website, social platforms, flyers, etc.
Customer Referrals
Tell a friend to tell a friend! Develop a customer referral program if you haven't already. People trust other people's business recommendations, even more so when it's a friend or someone they know. Allow your existing clients to help you get new customers.
Creative Packaging
Outside-the-box thinking takes on a literal meaning when it comes to using product packaging as one of your creative advertising ideas. Of course, this can only work if you sell a physical product. Give your packaging a smart twist to make it stand out. This will show that you're prepared to go the extra mile to please or surprise your buyers.
Giveaway
Occasional giveaways are excellent advertising ideas: let's see why. You can ask your followers to enter the giveaway via email or by sharing and commenting on your posts. In the end, there will be one winner (or multiple, depending on your choice), but you will have gathered valuable new leads, prospects, or even clients.
Business Collaboration
Join forces with businesses that have an influence in your industry or one that's related to yours. It's vital that you partner with a brand that has a good reputation and an audience that could be interested in your offerings. The right business collaborations are one of the most effective advertising ideas.
Take the collaboration between Amazon and Uber as an example. It allowed users to order Ubers with an Amazon Echo, benefiting both the companies and their clients.
Turn the Wheel of Time
The modern world seems to grow more and more appreciative of retro styles and aesthetics. Join the trend with your advertising campaigns. Create ads and visual content inspired by different eras. 
You don't have to jump back to the Renaissance period (unless you want to). You can simply go back to the 80s, 90s, or any other decade of your choice and bring it alive with your advertising campaigns.
Recreate Classics
Speaking of going back in time, why don't you remake some of the most iconic ads of the past? The idea is appealing enough to draw web surfers' attention to your ad. You can even make a behind-the-scenes video to show the process of recreation.
Share Your Success
Celebrating milestones and sharing your success will help to create a stronger community around your brand. Share your achievements with your employees and clients by doing giveaways, organizing events, giving a live speech, and so forth.
Greater Cause
Last but most definitely not least, commit to a greater cause that you genuinely believe in. From charity and donations to simply raising awareness on the matter will positively affect both your business and the world. It's also a reliable way to gather a group of like-minded people around your company.
We hope you found inspiration from our list of creative advertising ideas to strengthen your marketing and stand out from the competition. Most of the ideas don't require large funds and can fit any small business advertising budget. We wish you the best of luck with your marketing campaigns!
Interested in creating online ads? Check out our ready-made templates that make it easy to create high-quality ads and promotional videos online.